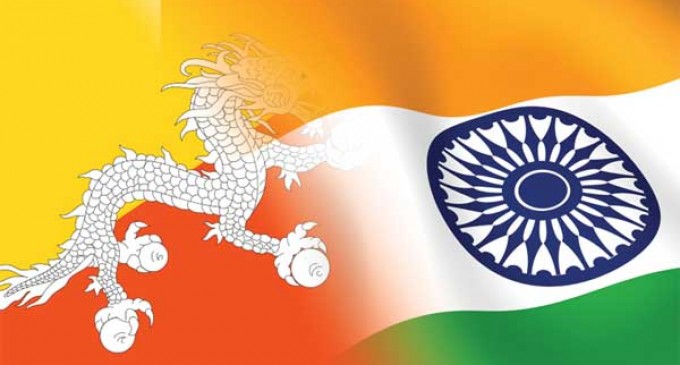 New Delhi, Nov 10 (IANS) Months after Indian and Chinese troops disengaged after a standoff situation on the Doklam plateau of Bhutan, India and the Himalayan kingdom on Friday held the annual bilateral development cooperation talks here.
Terming the talks an important bilateral mechanism to review the entire gamut of India's development partnership with Bhutan, the External Affairs Ministry said in a statement that India has committed assistance of Rs 4,500 crore for implementation of development projects during Bhutan's 11th Five Year Plan that ends next year.
The Indian delegation in the talks was led by Vijay Gokhale, Secretary, Economic Relations, in the Ministry of External Affairs, while the Bhutanese delegation was led by the country's Foreign Secretary Dasho Sonam Tshong.
There are a number of institutional mechanisms between India and Bhutan in areas such as security, border management, trade, transit, economic, hydro-power, development cooperation and water resources.
India is Bhutan's largest trading partner. In 2016, bilateral trade stood at Rs 8,723 crore with total imports being Rs 5,528.5 crore (82 per cent of Bhutan's total imports) and exports recorded at Rs 3,205.2 crore including electricity (90 per cent of Bhutan's total exports).
India has set up three hydroelectric projects in Bhutan totalling 1,416 MW, which are operational and exporting surplus power – amounting as much as three-fourths – to India.
According to Friday's External Affairs Ministry statement, the Bhutanese side conveyed appreciation of for the "invaluable support" from India for their socio-economic development priorities, and for timely disbursement of funds for ongoing projects.
"The two sides also initiated discussions on Government of India's assistance to the 12th Five Year Plan (2018-2023) of the Royal Government of Bhutan," the statement said.
Friday's talks come close on the heels of the Bhutanese royal family's goodwill visit to India earlier this month.
President Ram Nath Kovind deeply appreciated Bhutan King Jigme Khesar Namgyel Wangchuck's role in resolving the standoff when the King, accompanied by Queen Jetsun Pema Wangchuk and Prince Jigme Namgyal Wangchuk, called on him at Rashtrapati Bhavan here on November 1.
Indian and Chinese troops were locked in an over two-month-long standoff at the Doklam plateau.
The crisis, which erupted in June over Chinese moves to build a road in an area claimed by Bhutan, ended in August, with both sides deciding to "disengage" from the face-off point.
While India and Bhutan said that Beijing's move violated the status quo in the India-Bhutan-China international trijunction, China claimed that it was its territory.
Source : Sarkaritel.com