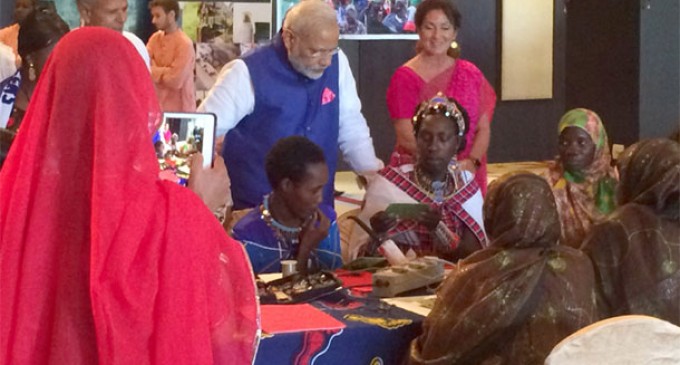 Dar-es-Salaam, July 10 (IANS) Prime Minister Narendra Modi on Sunday interacted here with a group of 30 '
', women from Tanzania and a few other African countries trained in harnessing solar energy under the Indian government programmes.
"Celebrating the Solar Mamas! PM interacts with women trained in vocational skills under India's development support," External Affairs Ministry spokesperson Vikas Swarup tweeted.
When Modi asked one of the women how long she has been working on solar projects, she said she has been doing so for nine years.
With the support of the Indian government, the Barefoot College at Tilonia in Ajmer, Rajasthan, has been promoting and training rural women solar engineers, called 'Solar Mamas', from various developing countries, including from African nations.
The college is promoting and training these women in fabrication, installation, use, repair and maintenance of solar lanterns and household solar lighting system under programmes supported by the Indian government.
Barefoot women's vocational training colleges have been set up in Zanzibar island of Tanzania and some other countries in Africa for imparting solar electrification skills and distributing solar kits.
These colleges also support various entrepreneurial skills such as bee-keeping and tailoring.
In Sunday's interaction, the women demonstrated their honey-extraction and stitching practices and sung civil rights anthem, "We shall overcome".
The presentation was also attended by Tanazanian Deputy Foreign Minister Susan A. Kolimba and Zanzibar Minister of Land, Housing, Water and Energy Salama Aboud Talib.
Earlier on Sunday, India and Tanzania signed five agreements, including one on setting up a centre for vocational training in Zanzibar, following bilateral discussions headed by Modi and Tanzanian President John Magufuli.
Prior to Sunday's talks, Modi was accorded a ceremonial welcome at the State House here.
Modi also played a traditional drum along with Magufuli, adding a local, informal touch to the ceremony.
Modi arrived in Tanzania on Saturday night from South Africa on the third leg of his four-nation tour of Africa.
This is the first prime ministerial visit from India to Tanzania in five years since the visit of then Prime Minister Manmohan Singh in 2011.
Modi will leave for Kenya later on Sunday on the fourth and final leg of his African sojourn