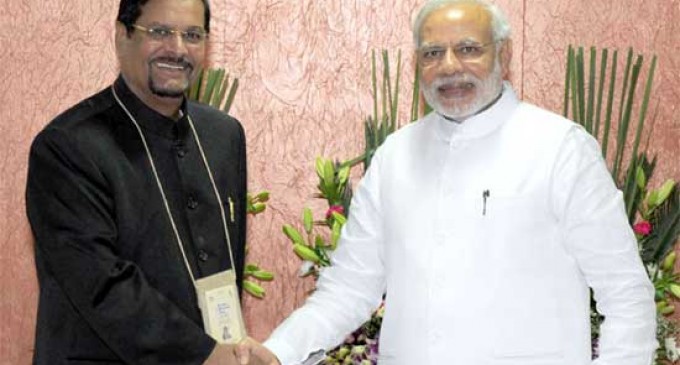 Gandhinagar, Jan 8 Prime Minister Narendra Modi Thursday met Guyana President Donald Ramotar and said India would set up its first IT Centre of Excellence on the South American continent in his country.
Meeting Ramotar on the sidelines of the 13th Pravasi Bharatiya Divas in Gandhinagar, Modi recalled his interaction with South American leaders on the sidelines of the BRICS – Brazil, Russia, India, China and South Africa – Summit in 2014.
India has approved a new Line of Credit of $50 million for the East Bank Demerara-East Coast Road Link Project in the small country on the continent's Caribbean coast.
India has also agreed to concessional credit to supply a passenger ferry to help Guyana overcome transportation problems in the northern region, said an official statement.
"President Donald Ramotar and I had a very good meeting. We discussed ways of enhancing India-Guyana co-operation," Modi tweeted later.
During his meeting with Vice Prime Minister of Mauritius, Showkatally Soodhun, Modi congratulated the Mauritius Prime Minister Sir Anerood Jugnauth on his recent election victory and renewed an invitation to him to visit India.
Jugnauth has also invited Modi to visit Mauritius.
Both sides expressed keenness to enhance cooperation in infrastructure projects and matters related to ocean economy.
During his meeting with South Africa Foreign Minister Maite Nkoana-Mashabane, Modi recalled that Thursday was the Founding Day of the African National Congress. He also recalled the common heritage of the two countries, including struggle against colonial rule.
Both sides are keen to deepen cooperation in sectors such as infrastructure and defence manufacturing; and to strengthen partnerships in multilateral fora, the statement said.
Ramotar is the chief guest of the PBD,while Mashabane and Soodhun are special invitees.
The diaspora gala is being held in Gandhinagar Jan 7-9 to mark the centenary of the return to India of Mahatma Gandhi from South Africa.