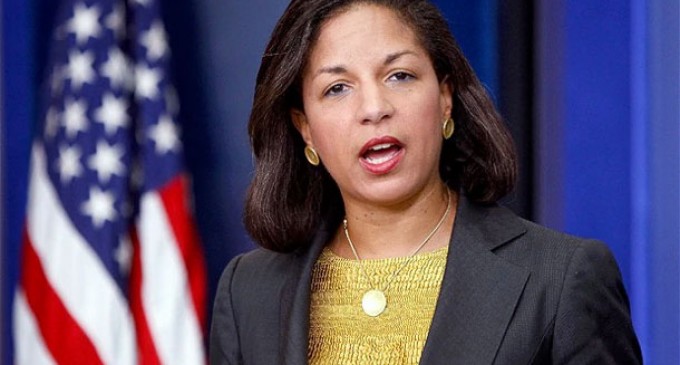 Washington, Sep 29 (IANS) US National Security Advisor Susan Rice spoke to her Indian counterpart Ajit Doval and said that the US has reiterated that Pakistan must "take effective action to combat and delegitimise" UN-designated terrorists and terror groups.
Rice spoke to Doval just ahead of the Indian Army's surgical strikes on terror launch pads across the Line of Control (LoC) in Jammu and Kashmir on Wednesday night.
On September 18, in a cross-border terror attack on an Indian Army garrison at Uri in Jammu and Kashmir, 18 soldiers lost their lives.
In a press statement on Wednesday, US National Security Council spokesperson Ned Price said that Rice "strongly condemned the September 18 cross-border attack on the Indian Army Brigade headquarters in Uri and offered condolences to the victims and their families".
"Ambassador Rice affirmed President (Barack) Obama's commitment to redouble our efforts to bring to justice the perpetrators of terrorism throughout the world," Price said.
"Highlighting the danger that cross-border terrorism poses to the region, Ambassador Rice reiterated our expectation that Pakistan take effective action to combat and delegitimise United Nations-designated terrorist individuals and entities, including Lashkar-e-Tayyiba, Jaish-e-Muhammad, and their affiliates," he said.
India has blamed the Pakistan-based terror outfit Jaish-e-Mohammed for the Uri attack.
The attack came amid large-scale violence in Jammu and Kashmir that has claimed around 90 lives following the killing of Hizbul Mujahideen terrorist Burhan Wani in July.
On Tuesday, India announced its decision to pull out of the 19th South Asian Association of Regional Cooperation (Saarc) Summit scheduled to be held in Islamabad on November 9-10.
Afghanistan, Bangladesh and Bhutan too followed suit citing state sponsorship of terrorism as the reason.
In his statement, Price said that in the context of the strong India-US relationship, Rice, in her conversation with Doval, "discussed our shared commitment with India to pursuing peace and regional stability and pledged to deepen collaboration on counter-terrorism matters including on UN terrorist designations".
On Thursday, India's Director General Military Operations Lt. Gen. Ranbir Singh, at a media briefing in New Delhi, said that the Indian Army carried out surgical strikes on terror launch pads across the Line of Control (LoC) in Jammu and Kashmir and caused "significant casualties" to the "terrorists and those who support them".