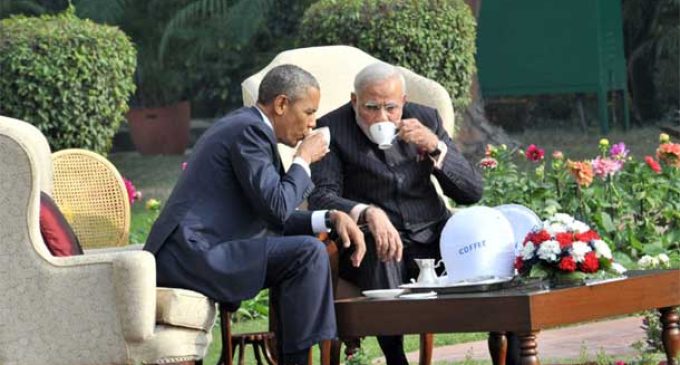 By TN Ashok   / Diplomatic Editor
New Delhi, Jan 25 : US President Barack Obama today expressed happiness that a breakthrough had been achieved on two key issues during his talks with Indian Prime Minister Narendra Modi – the civil nuclear cooperation and resumption of the process of forging a bilateral investment treaty.
" Today, we achieved a breakthrough understanding on two issues that were holding up our advances on civil nuclear cooperation and we are committed to moving towards full implementation and this is an important step that shows how we can work together to elevate our relationship,
The US President told newsmen at a briefing soon after his official talks with high ranking government functionaries led by Prime Minister Narendra Modi and his one on one meeting with Modi sobriqueted as " Chai Pe Charcha (discussion over tea).
" We can have many  of these at white house", Obama said even as both leaders exuded much warmth in hugging each other on more than one occasion and Modi broke protocol to visit Obama personally at the airport even as new land marks were set as a woman officer from the air force wing commander Pooja Thakur led the ceremonial march past at the forecourt of the rashtrapathy bhavan as Obama was welcomed with a 21 gun salute.
Obama said US agreed with India that " our trade and economic partnerships must focus on improving the daily lives of our people. Prime Minister Modi described for me his ambitious efforts to empower rural Indians with bank accounts and to ensure clean water and clean air for the Indian people and we want to be partners in this effort."
Obama said that in the last few years Indo US trade increased by some 60% to a US $ 100 billion. " We want to trade even more. So, we welcome the reforms that the Indian Prime Minister is pursuing to make it easier to do business here in India."
" We have also, as Prime Minister noted, agreed to resume discussions about a possible bilateral investment treaty and we will continue to pursue export reforms so that we can advance more hi-tech collaborations with India", he said as this formed a significant development in furthering Indo US ties which had been held up on certain contentious issues on the possible treaty.
Obama said he was pleased that India and USA agreed to a number of important steps to promote clean energy and to confront climate change. We very much support India's ambitious goal for solar energy and stand ready to speed this expansion with additional finance. We are also launching new joint projects to improve air quality in Indian cities.
The United States, the US President , would share more data and developed tools to help India assess and adapt to the impact of climate change and help vulnerable communities become more resilient.
" Going forward, we have agreed to work together to make concrete progress this year towards phasing out Hydro Floro Carbons under the Montreal Protocol. Prime Minister and I made personal commitment to work together to a strong global agreement in Paris. As I indicated to him, I think India's voice is very important on this issue. Perhaps, no country could potentially be more affected by the impacts of climate change and no country could be more important in moving forward a strong agreement than India. So, we appreciate his leadership."
The US President also observed that India and US agreed to deepen defence and security cooperation. " We have renewed the framework to guide our defence cooperation for another 10 years. In a major step forward for relation, our defence technology and trade initiative will allow us to jointly develop and produce new defence technology. We've also agreed to a new vision for the Asia Pacific so that we are doing more together to advance our shared security and prosperity in this critical region. "
Obama expressed his profound gratitude to Modi and the people of India for the "incredible hospitality" that was n shown to him and his wife Mitchell. " We are thrilled to be back in India. Mera pyar bhara namaskaar. Mr. Prime Minister, thank you for the invitation to join the people of India on Republic Day. I am honoured to be the first American President to attend this celebration as well as the first President to visit India twice."
" This reflects my commitment since beginning my Presidency to deepen our ties with India. I am pleased to be joined by the members of my administration as well as members of Congress and business leaders from the United States. All who believe that a strong relationship with India is critical for America's success in the 21st century."
Obama observed that as two great democracies, two innovative economies, two societies dedicated to the empowerment of our people including millions of Indian Americans, we are natural partners. When I addressed your Parliament on my last visit, I laid out my vision for how India and United States could build a defining partnership for the 21st century. Since then we've made significant progress. Our trade has increased; our militaries exercise together more for cooperating on key global challenges from nuclear proliferation to global health.
Obama in a singular praise for Prime Minister Modi observed that his election and his strong personal commitment to the India-US relationship provided an opportunity to further energize these efforts. In New York he Prime Minister Modi appeared in Madison Square Garden and was greeted like a Bollywood star and it was a signal of the deep friendship between our peoples as well as our close ties that we are working to expand even further, he said.
Talking about his preparation for his 2nd visit to India, rare for an American president in office, Obama said that at the White House, we agreed to take this partnership to a new level. We advanced that work today. Prime Minister Modi, thank you for hosting me including Chai pe Charchaa, we need more of those in White House. But even as this visit is rich in symbolism, we made substantial progress. Prime Minister has already indicated that United States and India have created a new declaration of friendship that elevates and formalizes our partnership.
Obama thanked the Indian Prime Minister for India's strong counter-terrorism cooperation and we have … even as America's combat operation is over in Afghanistan, we are going to continue to be strong and reliable partners for the Afghan people who have benefitted from India's generous assistance over many years.
The US President said he thanked Modi for his continued support for on-going efforts to prevent Iran from acquiring a nuclear weapon and arrive at a just diplomatic solution. " we discussed what more we can do as global partners. I reiterated and I reiterate to the Indian people today that we support to reform UN Security Council that includes India as a permanent member"
At the time, we see India playing a great role in ensuring international peace and security and meet shared challenges. As a leading contributor to the UN peacekeeping missions for many years, India can help the world to do even more to protect citizens in conflict zones. We welcome India's leadership in combating diseases and promoting global health, the advances to the rights and dignity of citizens around the world, he said.
The US President said he looked forward to his radio talk to the Indian people and in my speech on Tuesday about what I believe we can achieve together. This new partnership will not happen overnight. It is going to take some time and some patience but it is clear from this visit that we have a new and, perhaps, unprecedented opportunity in deepening our ties with India will remain our top foreign policy priority for my administration. So, let me just say Chale saath saath.