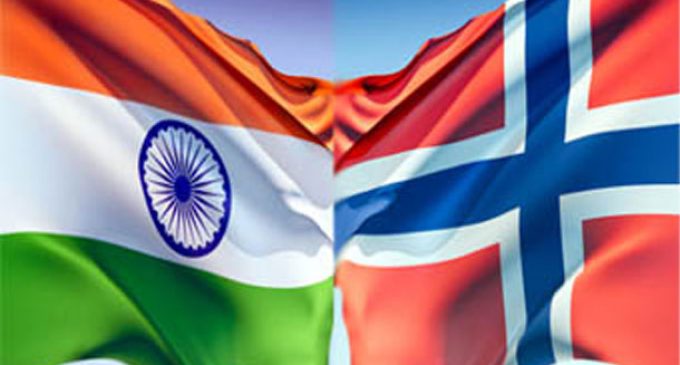 Oslo, Oct 14 Norway will be among the few countries whose nationals will soon be granted tourist visa on arrival facility in India, Indian President Pranab Mukherjee said here Tuesday.
Addressing the plenary session of the joint seminar on business, science and technology at Confederation of Norwegian Enterprise, Mukherjee also said that the joint working groups between the two countries in areas such as environment, science and technology and higher education had the potential of transforming the bilateral relationship.
He said the visa on arrival facility will facilitate travel of Norwegian citizens to India.
"I am pleased to inform you that Norway will feature in the list of the few countries to be soon granted the facility of tourist visa on arrival which will greatly facilitate travel for Norwegian citizens to India," he said.
Noting that the total trade between India and Norway stood at nearly $1 billion in 2013-14, Mukherjee said it was "not a true reflection of the relative size of our economies and of the potential for economic and commercial exchanges".
He hoped for conclusion of negotiations for a Trade and Investment Agreement between India and the European Free Trade Association (EFTA), of which Norway is one of the four member nations.
Mukherjee, who is accompanied by a business delegation comprising captains of industry from various sectors, said that India continues to be one of the most preferred destinations for foreign direct investment with FDI inflows peaking at $46.6 billion in 2011-12.
"I am confident that with the revival of global business sentiment we will be able to attract substantial FDI inflows," he said.
Referring to India's demographic dividend and a growing and aspirational middle class, he said it was of interest to foreign investors.
Mukherjee said the government had enhanced FDI limits in sectors like insurance and defence manufacturing and allowed 100 per cent FDI in railway infrastructure.
Noting that of the total FDI equity inflows into India of $228 billion since April 2000, FDI from Norway has only been $164 million, he said it belies the vast potential of economic relationship between the two countries.
"I am confident Norwegian industry will make full use of the new investment opportunities. The coming together of India's large talent pool and technological and financial investments from Norway can well catapult our economic relationship to a new high," he said.
Mukherjee also referred to government pension fund of Norway, which is the largest sovereign wealth fund in the world with assets close to $900 billion, saying its investment in equity and fixed income assets in India were only about $4 billion.
"Given India's tremendous growth potential, I am hopeful that the fund will considerably increase its investment exposure to our economy," he said.
He said India has embarked on an ambitious "Make in India" programme to make the country an investor-friendly destination by setting up single window clearances, e-Business portals and Investor Facilitation Cells and hoped that Norwegian investors will take optimum advantage.
Mukherjee said that infrastructure sector was a focus area for India and it envisaged to spend of a trillion US dollars including on new power projects.
He said Norway was a repository of advanced technology in hydro-electric power and there is tremendous scope for cooperation.
The president said the statement of intent on research in defence sector pointed to shared strategic objectives.