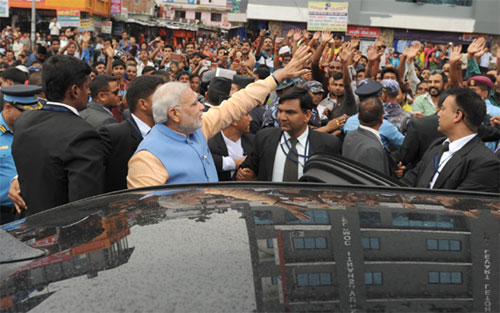 Kathmandu, Aug 4 A photograph uploaded on Facebook that showed visiting Indian Prime Minister Narendra Modi stepping out of his luxury vehicle and meeting common people has received thousands of likes.
Modi Sunday mingled with the common people outside the Constituent Assembly building in New Baneshwor.
This "opened a floodgate of comments on the social media, proving that Modi is a people's man even when in a foreign land", reported eKantipur Monday.
The photo got over 65,000 likes, with thousands of comments in his praise.
Also Sunday, Nepal figured prominently on the social network map with over 39,000 tweets, a majority of them on the Indian prime minister's visit, the media report said citing topsy.com, a web site that records twitter feeds.
On Twitter, "#ModiInNepal" was the fourth most twitted subject while keywords like @narendramodi, #nepal, @pmoindia, #modi, buddha, kathmandu and constitution were among the highest trending.
Soon after Modi's parliament address, Maoist leader Baburam Bhattarai tweeted: "PM Modi has won the heart and mind of Nepalese people with his magical address 2 d legislature-parliament of Nepal".
An hour later, he again took to twitter to say: "PM Modi's appreciation of d peace process, commitment to federal republican constitution, cooperation in eco dev, mention of Lumbini notable."