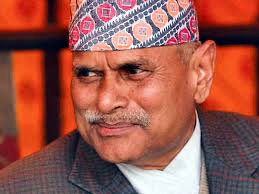 Kathmandu, April 26 Nepal President Ram Baran Yadav spent Saturday night inside a tent after the powerful earthquake caused several cracks in his office-cum-residence.
A senior presidential official told IANS that Yadav and his security guards spent the entire night inside the tent fearing that further aftershocks may damage the entire century-old building.
The President's Office was built some 150 years ago during the Rana Regime with British style architecture.
Known as Sheetal Niwas, the house was earlier used by the foreign ministry. Some parts of the building, including the kitchen, developed cracks following the earthquake.
"President Yadav is still in his tent," said the official who is not authorized to speak to the media.
A powerful earthquake measuring 7.9 on the Richter scale shook Nepal on Saturday, leaving more than 2,000 people dead and caused widespread destruction.
Similarly, Nepal Prime Minister Sushil Koirala's residence was also badly affected by the quake, the official said.
The main entrance to the prime minister's residence was damaged. Koirala was in Indonesia when the quake rocked the nation.
Several government offices have also been badly hit.