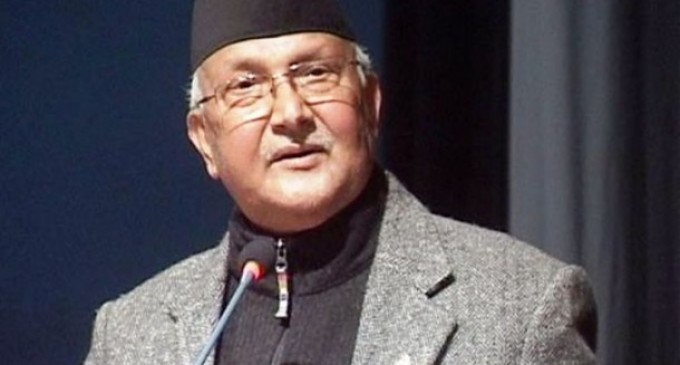 Kathmandu, Feb 18 (IANS) Nepal Prime Minister K.P. Sharma Oli's six-day India visit starts on Friday with the two sides working on at least four Memorandums of Understanding (MoUs) to boost cooperation in economic, energy and cultural fields.
Two MoUs — one on the $1 billion line of credit that India has already committed to extend to Nepal and another on $1 billion that India has pledged for Nepal's post-earthquake reconstruction — will be signed during Oli's visit, officials here privy to the discussions on both sides said.
The two MoUs are considered the framework under which modality, projects and other aspects of the Indian aid and loan will be finalised during the visit.
During his visit to Nepal in August 2014, Prime Minister Narendra Modi had announced a $1 billion line of credit to Nepal for undertaking various infrastructure projects.
The MoU on Nepal's post-earthquake reconstruction effort envisages various projects to be undertaken through Indian assistance. India's External Affairs Minister Sushma Swaraj had announced $1 billion loan and aid to Nepal during the International Conference on Nepal's Reconstruction last June.
Besides, an MoU is to be signed between the Sangeet Natak Akademi of India and the Nepal Sangeet Tatha Natya Pragya Pratisthan for exchange of cultural programmes between the two entities.
Radio Nepal and All India Radio will sign another MoU to cooperate in exchange of various programmes.
The councils of ministers of the governments on both sides have already approved these MoUs, said officials.
During Oli's visit, there is going to be an announcement regarding Nepal importing from India 80 MW of electricity through the recently installed Muzaffarpur-Dhalkebar 400 kV transmission line.
The two sides are busy seeking agreements on other MoUs which are under consideration and might be signed during Oli's visit.
One of those MoUs relates to Nepal's registration in the 'SAARC Satellite' proposed by Prime Minister Modi during the 18th summit meeting of the South Asian Association for Regional Cooperation (SAARC) in Kathmandu.
It is a communication and metrology satellite proposed by the Indian Space Research Organisation (ISRO) which is supported by Bangladesh and Sri Lanka. Nepal has not taken any decision so far about joining it.
Another MoU is about cooperation and exchange of various activities and manpower between Tribhuvan University in Kathmandu and the Indian Council for Cultural Relations (ICCR). The ICCR provides scholarships to Nepali students in various Indian universities.
The officials said the two sides are likely to agree on executing the India-funded Hulaki Road in the southern belt of Nepal which will be referred to in the joint communique.
Kathmandu and New Delhi will stress upon and reiterate implementation of past agreements, focus on economic and technical cooperation and other regular issues of mutual concern during the visit, the officials said.
Prime Minister Oli is paying a state visit to India from 19 to 24 February at the friendly invitation of Prime Minister Modi.
He will be accompanied by Deputy Prime Minister and Minister for Foreign Affairs Kamal Thapa, Minister for Finance Bishnu Prasad Paudel and Minister for Home Affairs Shakti Bahadur Basnet, besides other high ranking officials.