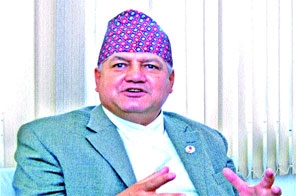 New Delhi, July 30 Nepal is keen to learn from Prime Minister Narendra Modi's development model, visiting Nepalese Commerce Minister Sunil Bahadur Thapa said Wednesday.
Speaking at the Bharatiya Janata Party (BJP) headquarters here, Thapa said, "Nepal is keen to learn from Modi's political model of development leading towards the path of economic model of development."
"Democratic constitution based on consensus is essential for Nepal's economic evolution," he added.
Thapa further said increased business-to-business and people-to-people contacts between India and Nepal should be a top priority.
"The visit by Indian Prime Minister to Nepal from Aug 3 is historic and shall set the tone for development, eradication of poverty and increased cooperation in the field of hydro-power projects," he said.
Speaking on relations between the two countries, Thapa recalled the Nepal peace process initiated 12 years ago by the then Indian Prime Minister — Atal Bihari Vajpayee — and hoped that the 'process of strengthening bilateral ties' between the two nations will be accelerated by Modi.
The visiting minister was felicitated by Vijay Jolly, Global Convenor of BJP Overseas Affairs.