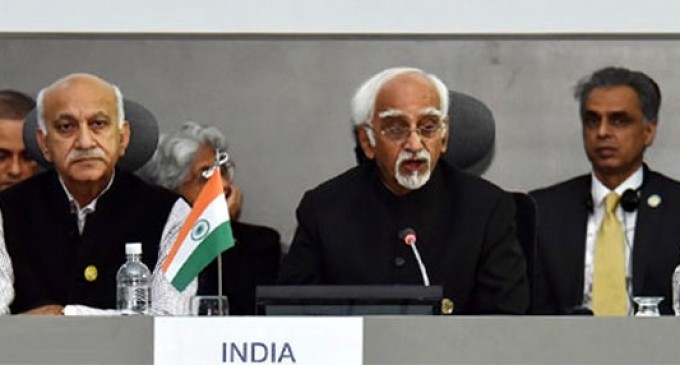 New Delhi, Sep 18 (IANS) Without naming Pakistan, India used the foremost South-South cooperation forum to take action against terrorism and called for support to New Delhi's initiative of the Comprehensive Convention on International Terrorism that was tabled at the UN.
"Today, the biggest threat to international peace, and to the sovereignty of states, is the phenomenon of terrorism," Vice President Hamid Ansari said in his address at the 17th Non-Aligned Summit (NAM) in the Venezuelan island of Margarita on Saturday.
"No cause justifies the indiscriminate killing of innocent civilians as a means to achieve a political goal or change of policies," he said.
Stating that terrorism is one of the most egregious sources of human right violations today, he said "its use as an instrument of state policy is to be unequivocally condemned".
"It has become a major impediment to development," Ansari said.
"It is therefore imperative for the Non-Aligned Movement to galvanise the international community to strengthen the international legal framework to address this menace,including by adopting the draft Comprehensive UN Convention on Terrorism, to ensure the closest cooperation amongst the international community to counter the scourge of terror," he stated.
"We must also ensure that all existing structures that are the building blocks of UN's Global Counter Terrorism Strategy function in a non-partisan and professional manner."
The Vice President called for "concrete action in the fight against terrorism" and the need to establish a mechanism within NAM that would ensure "effective cooperation in combating terrorism, that is the main threat to security, sovereignty and development".
Ansari is leading the Indian delegation to the foremost summit of developing nations being hosted by the South American country.
He called for development cooperation as it was an essential means of promoting and developing international solidarity and putting a human face on the impact of economic globalisation.
"This becomes all the more important in the light of the adoption of the Sustainable Development Goals (SDGs) in the Agenda 2030 which, if implemented successfully, will transform the lives of all our citizens," the Vice President said.
"It would be a reaffirmation of our commitment as a Movement to ensure the dignity and development of all humankind."
NAM comprises 53 countries from Africa, 39 from Asia, 26 from Latin America and the Caribbean and two from Europe.
There are 17 countries and 10 international organisations that are observers at NAM, which came into being 55 years ago when leaders of 25 developing countries met at the 1961 Belgrade Conference.
India, one of the founding members of the Movement, hosted the 7th NAM Summit in 1983 in New Delhi. The last NAM Summit was hosted by Iran in 2012.