By Neelapu Shanti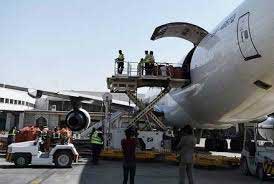 With a vision to expand the air freight corridor to other cities in India, the operationalization of Kabul-Mumbai cargo has taken to great lengths in exploring and creating trade opportunities between India and Afghanistan. The Mumbai-Kabul air cargo was inaugurated by the Second Vice President of Afghanistan Sarwar Danish on Wednesday.The Mumbai-Kabul route creates positive hope in scaling economic ties to upward trajectory between India and Afghanistan.
The success of the first Indo-Afghan air corridor programme weaved hope for further expansion of trade in linking with other routes. The Government of Afghanistan is determined to export its fresh fruits to the global market. The first air route linking between Kabul-New Delhi was inaugurated by President Mohammad Ashraf Ghani in June this year. The decision to establish an Air Freight Corridor between Afghanistan and India was taken in the meeting between Prime Minister Shri NarendraModi and President Ghani in September 2016 during the President's visit to India.The first direct air cargo from New Delhi- Kabul freighted 100 tonnes of cargo, mainly pharmaceuticals, water purifiers and medical equipment. The current volume of trade between Afghanistan and India stands at $800 million annually. Keeping in view, Afghanistan's vision to achieve a target of USD 10 billion in trade between India and Afghanistan over the next five years, Kabul-Mumbai route set lot of expectations in expanding and enhancing trade between the two nations.
Expectedly the Mumbai-Kabul air freight will increase the export of fresh fruits and will significantly ordain the economy of Afghanistan. India has always remained an important strategic partner of Afghanistan. The potential of India's soft power is aimed to create bonds with the region, which is India's neighbourhood policy. The air freight corridor marks a colossal turning point to boost trade between the two countries and Afghanistan to get reliable access route to reach the global markets and beyond. This year Pakistan has increased tariff to Afghan fruit products exorbitantly in exporting their produce to India through Pakistan. This resulted in huge losses for the Afghan traders.
The Kabul-Mumbai corridor will help expand to export Afghan fresh fruits and other commodities. The Kabul-Mumbai cargo freighted 40 tons of Apples and Mumbai exported 40 tons of banana and tomatoes to Kabul on Wednesday.
India-Afghanistan initiated air corridor programme to boost trade between the two nations. Since its inception there were more than 50 cargoes exchanged between India and Afghanistan in a span of six months.  Both the countries envision for better economic
Air cargo offers a faster, more secure, and more reliable mode of shipment and requires less packaging and lower insurance than other modes of transport.The expansion of air freight corridor sets positive hopes for the growth of trade between India and Afghanistan.  The country's imports totaled $6.67 billion in 2016.Major imports from Afghanistan to India are fresh fruits, dried fruits, nuts, raisins, vegetables, oil seeds, precious and semi-precious stones, etc.
With the launch of the Mumbai-Kabul cargo flight, India has also proposed to establish business chambers for creating enhanced trade activities. Next Amritsar-Kabul air cargo proposal is expectedly to begin in 2018.