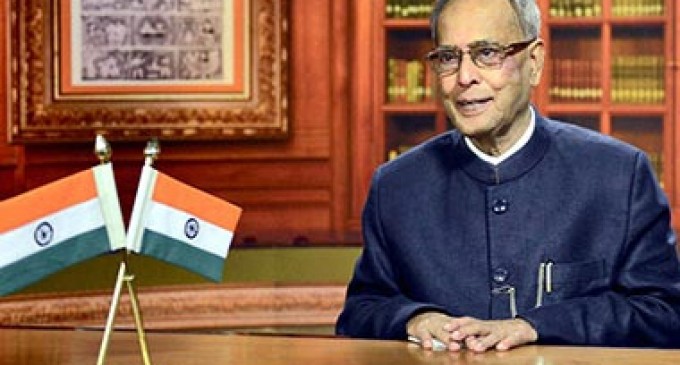 New Delhi, Aug 31  President Pranab Mukherjee greeted the people of Malaysia, Trinidad and Tobago and Kyrgyz Republic on their national days on Monday.
In a message to the Malaysian King, Tuanku Abdul Halim Muadzam Shah, Mukherjee said: "Our ties have strengthened substantively as we share the desire to deepen and broaden our multi-faceted relationship to our mutual benefit.
"We look forward to strengthening our relations with Malaysia and working with you to advance regional cooperation," he added.
Malaysia celebrates national day on August 31 to mark its independence from British rule.
Mukherjee also extended his greetings and felicitations to the government and people of the Caribbean nation of Trinidad and Tobago.
In his message to his Trinidad and Tobago counterpart Anthony Carmona, he said: "On behalf of government, the people of India and on my own behalf, it gives me great pleasure to convey warm greetings and felicitations to you and to the friendly people of Trinidad and Tobago on the occasion of your National Day."
"India and Trinidad and Tobago enjoy close and warm ties which have been nurtured by our strong historical and cultural linkages. The convergence of our views on many international issues of common interest, being developed further through the common platform of CARICOM, brings our two countries even closer. I am confident that these bonds between us will continue to strengthen in the years to come," Mukherjee said.
Trinidad and Tobago obtained independence from Britain on this day in 1962.
Extending his greetings to the government and the people of Kyrgyzstan, Mukherjee said: "We, in India, admire the progress being made by the Kyrgyz Republic in establishing a parliamentary form of government with strong democratic institutions".
In a message to his Kyrgyz counterpart Almazbek Atambaev, he said: "India and the Kyrgyz Republic enjoy traditionally close relations based on our shared values and historical and cultural linkages. India is committed to strengthening and expanding our bilateral relations for the mutual benefit of our two peoples."
He said the recent visit of Prime Minister Narendra Modi to Kyrgyzstan "has not only consolidated our bilateral relationship, but has also opened up new avenues for enhancing the trade and economic cooperation between India and the Kyrgyz Republic".
Kyrgyzstan, a part of the Soviet Union, declared itself an independent country on this day in 1991.