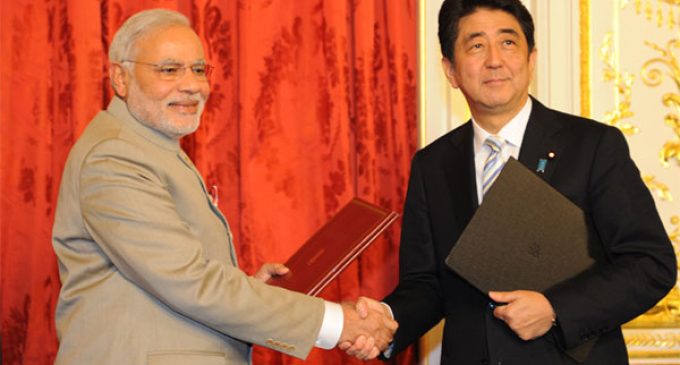 By TN Ashok    Diplomatic Editor
New Delhi, Sept 04 : Indian Prime Minister Narendra Modi's successful visit to Japan has brought a lot of cheer to business both in Japan and India as " Red Carpet" replaces " Red Tape" to put it in Modi's own words and bilateral relations get enhanced to new heights.
Getting Japan to commit to invest US 35 billion in the next five years is no mean achievement even if detractors say nothing much has been achieved on a nuclear deal with the most powerful east Asian nation. The point is that it will be achieved if not today some day in the near future which is itself another big achievement.
India's business houses perceive a massive jump in Japan's business interests in India with the US $ 35 billion commitment and much of the optimism stems from Modi walking the extra mile announcing a team in the PMO with two Japanese nominees to fast track their investment proposals.
India's industry sees no problem in raising the bilateral trade between the two countries to US $ 50 billion from the current US 4 16 billion with enhancing the merchandise shipments. "The visit marks a defining moment in our relationship. It will be registered in history as one that significantly elevated the level of India-Japan engagement across areas," said Sidharth Birla, president of the leading industry chamber Ficci.
Birla said he was particularly enthused about the launch of the Japan-India Investment Promotion Partnership in which the two sides have agreed to double the flow of foreign investment into India and the number of Japanese companies over the next five years.
The beauty is that Japan has pledged support to every project Modi has talked about in the 100 days in office —   infrastructure, transport links, high-speed trains like bullet trains, smart cities, Ganga rejuvenation, clean energy, skilling and food processing.
The Tokyo declaration is no piff and paff  as it incorporates in the 3,300-word document a vision for raising India-Japan Special Strategic and Global Partnership. The declaration is a summation of the bilateral talks between Modi and his counterpart Shinzo Abe.
Shinzo Abe had said: "Our bilateral relationship is one with the most potential in the world."
The PHD Chamber said the visit had resulted in combining "Abenomics" and "Modinomics" into what it termed as "Modi-Abe Dynamics". It said both Japanese and Indian investors will look forward to enhanced collaboration. "We expect future Indo-Japan ties to further cement, motivating the latter companies' number going up from 1,000 to over 1,500 in the next five years, and India agreeing to allow these companies to operate on its exclusive economic zones."
NEC India, a subsidiary of NEC Corporation – Japan's leading IT and networking company provided the Japanese perspective on Modi's visit when its MD, Koichiro Koibe said :"Indian Prime Minister Narendra Modi's visit to Japan is set to take the relations between the two countries to newer heights."
A major dimension of the strategic partnership is the cooperation on defence and security issues since 2001, when the bilateral Comprehensive Security Dialogue was inaugurated. Further institutionalization of bilateral security cooperation continued, with the two countries issuing the Joint Declaration on Security Cooperation in October 2008.
India Today , a leading journal published from India's capital New Delhi , claimed 10 major achievements from Modi's visit to Japan. It listed them as:
1)     Japan's commitment to invest US $ 35 billion in India through the public and private funding over the next five years for development project including building of smart cities.
2)     Five pacts signed between the two countries covering defence exchanges, cooperation in clean energy roads and highways, healthcare and women even as both countries raise their strategic partnership to special strategic partnership.
3. Japan lifts  ban on six Indian entities including Hindustan Aeronautics Limited (HAL) imposed in the aftermath of 1998 nuclear tests.
4. Japan and India agree to enhance their defence and strategic cooperation to a new level and also decide to speed up negotiations on a civil nuclear deal.
5. The Kyoto pact envisages developing  Modi's Lok Sabha constituency of Varanasi like Kyoto 'smart city' with the help of Japan.
6. Tokyo will help India in providing financial, technical and operational support to introduce Bullet trains, a project that Modi has been actively pursuing.
7. PM Modi's invite to  NRIs to visit India at least once a year to boost tourism.
8. MoU's  for cooperation in heritage conservation, city modernisation and cooperation in the fields of art, culture and academics.
9. Both countries decide  to build a strong, deep and strategic relationship under the India-Japan Cooperation framework.
10. India decides to set up a Special Management Team directly under the PMO to facilitate proposals from Japan.