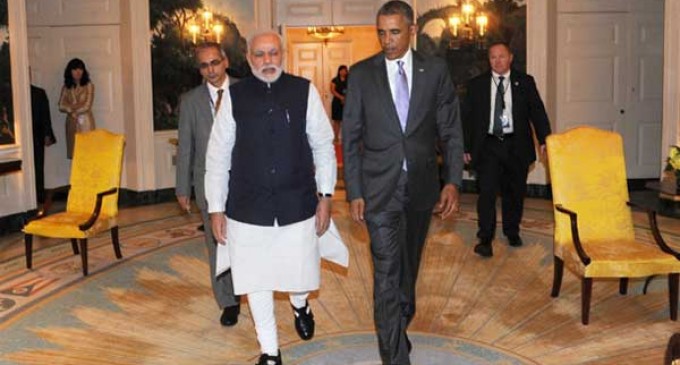 Washington, Jan 22 Prime Minister Narendra Modi's invitation to President Barack Obama to be the first American leader to be the chief guest at India's Republic day took him by "some surprise" but he felt "personally honoured" to accept.
Given the "complicated history" between the two countries, "I think it took us by some surprise," Deputy National Security Adviser Ben Rhodes told reporters Tuesday in a conference call previewing the visit.
"There's a great affinity between the US and India and our people, but there's also a history that is complicated and that would have made it seem highly unlikely that a US President would be sitting with India's leaders at their Republic Day ceremony," he said.
"So I think President Obama was personally honoured to receive that invitation. I think he saw it as building on a successful summit with Prime Minster Modi," Rhodes said.
"And I think he sees this as a potentially transitional if not transformational moment for the relationship because we have a very strong and clear indication from India's leadership that they want to elevate our bilateral cooperation and our global cooperation."
Rhodes noted that Obama has not attended any national day ceremonies of any other countries.
"It's a unique event, but it's I think of great symbolic importance, given the US-India history and given the importance of Republic Day in India," he said. "And so that's why he was more than pleased to accept the invitation."
Although the White House had not scheduled the State of the Union message when the invitation from Modi came, it "certainly took the timing of the India trip into account in setting the date" and in its outreach to Congressional leaders.
Turning to the chemistry between Modi and Obama, Rhodes noted that in their first conversation after Modi's election, "they noted some similarities in terms of how their campaigns kind of changed the way in which politics was practiced in their respective countries."
"So I think what they shared off the bat was a similar experience of having run these very dynamic campaigns," he said. "And then during the Prime Minister's visit here I think they struck up a very good chemistry"
"So our hope is that the chemistry between the leaders and the personal relationship can lead to positive outcomes for our country," Rhodes said.
"And so it's worth the investment in the relationship with the country, the leader, and the people of India."
Turning to the President's security requirements, Rhodes noted that during his two inaugurations, Obama had substantial parades, in which he walked and then was on a reviewing stand for a period of hours in front of the White House.
That was the closest analogy to India's Republic Day, he said. But "There's not been a similar event that he's attended overseas in which he's done so, so it's unique in that case," Rhodes acknowledged.