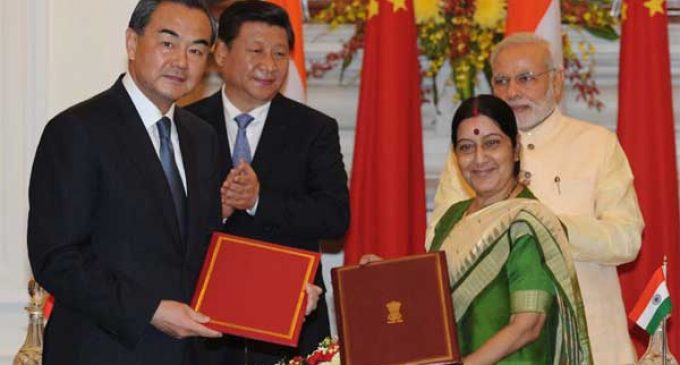 New Delhi, Sep 19  India and China agreed to cooperate across a wide gamut of activities following Thursday's talks between Prime Minister Narendra Modi and Chinese President Xi Jinping here, with the two countries exchanging 16 accord documents in areas spanning railways, trade, administration, culture and industrial parks.
The first agreement was on a new pilgrimage route to Kailash Mansarovar via Nathu La – a boon to Indian travellers who would now have a safe passage to the religious hub even during rainy season, while a Memorandum of Understanding (MoU) and an action plan were inked to strengthen cooperation in railways.
The cooperation would lead to China help India in increasing speed on the existing railway line from Chennai to Mysore via Bangalore.
China will provide training in heavy haul for 100 Indian Railway officials, and the two countries will cooperate in areas such as re-development of existing railway stations and establishment of a railway university in India besides a high-speed rail project.
Trade too was a prime focus with India and China announcing a five-year trade and economic development plan, and also agreeing to the minutes of the 10th session of India-China Joint Economic Group.
The two countries will work to rebalance bilateral trade and address the existing structural imbalance in trade that has a bearing on its sustainability.
Pharmaceutical supervision, including registration, speedier phytosanitary negotiations on agro-products for two-way trade, stronger links between Indian IT companies and Chinese enterprises, and increasing services trade in tourism, films, healthcare, IT and logistics have been envisaged.
Two other agreements were signed in the areas of audio-visual cooperation for joint production of movies, and mutual administrative assistance and cooperation in customs matter.
Two more MoUs followed to ensure cooperation in peaceful use of space and in cultural institutions.
Modi and Xi also discussed use of clean energy, agreeing that a possible expansion of civil nuclear energy program will lead to energy security.
An MoU on cooperation was signed between National Book Trust of India (NBT), an apex body that was established in 1957 to develop reading habits and also to bring out books in different languages, and the State Administration of Press, Publication, Radio, Film and Television of China.
A work plan on drug administration and cooperation too was finalised along with an agreement on establishing sister city relationship between India's and Chinese financial hubs – Mumbai and Shanghai.
An MoU for setting up industrial parks in Maharashtra came next, while the last three agreements were inked Wednesday when Modi played a spirited guide to Xi in Ahmedabad.
In Gujarat, India and China agreed to establish sister city relationship between Ahmedabad and Guangzhou, a sister province/state relationship between Gujarat and Guangdong, and an MoU on setting up industrial parks in Gujarat.