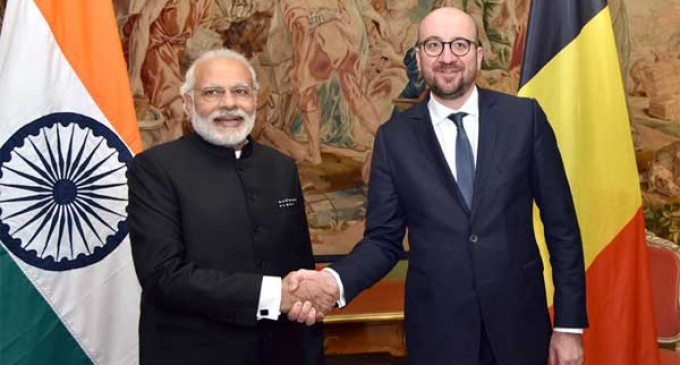 Brussels, March 31  Offering his deepest condolences to the families of the victims of the March 22 terror attacks in Brussels, Prime Minister Narendra Modi on Wednesday said that an extradition treaty between India and Belgium should be expedited.
"My deepest condolences to the families of those who lost their loved ones to the terror strikes in Brussels last week," Modi said in his address to the media after jointly remote activating with Belgian Prime Minister Charles Michel Asia's largest optical telescope located in India that has been built with Belgium's help.
"Having experienced terrorist violence ourselves on countless occasions, we share your pain," he said.
At least 35 people, including an Indian national, were killed in twin explosions at Zaventem airport and in another explosion at a metro station in the Belgian capital on March 22.
Stating that India stood in full support and solidarity with the Belgian people, Modi said: "As part of our efforts to respond to this common challenge we could resume discussions on a mutual legal assistance treaty. Negotiations on extradition treaty and a treaty on exchange of sentenced prisoners could be concluded expeditiously."
He said that India and Belgium shared a long history of friendship.
"A hundred years ago, more than 130,000 soldiers from India fought in the First World War alongside your countrymen on Belgian soil," the prime minister said.
"More than 9,000 Indian soldiers made the supreme sacrifice."
Modi said that India was ready to welcome Belgian King Phillipe next year which will mark 70 years of diplomatic ties between the two countries.
Stating that his talks with Prime Minister Michel earlier in the day covered the whole spectrum of ties, he said: "A system of bilateral foreign policy consultations would recommend concrete ways to upgrade our partnership."
Referring to the economic opportunities India offered to the world today, he said that the country's macroeconomic fundamentals were robust, and at 7 percent plus, it was one of the fastest growing economies of the world.
"I believe that a combination of Belgian capacities and India's economic growth can produce promising opportunities for businesses on both sides," he said.
"Prime minister and I have just held a productive interaction with Belgian CEOs and business persons earlier today. I invite the Belgian government and companies to pro-actively associate with India's ambitious development projects including Digital India, Start Up India and Skill India."
According to Modi, Belgian businesses can make their global supply chains more cost effective by manufacturing in India.
"India's goal to modernise infrastructure, especially railways and ports, and building of 100-plus smart cities also presents a unique investment opportunity for the Belgian companies," he said.
"These partnerships can help us reach new heights in our trade and commercial partnership. I have invited Prime Minister Michel to visit India with Belgian businesses to see first-hand the reality of India's economic and political promise. Clearly, it is not just diamonds that can bring shine to our partnership."
Stating that climate change was one of the greatest challenges before mankind, Modi said he and Michel "have agreed to enhance our cooperation in renewable energy".
"We would also build partnerships in areas such as harnessing waste for energy, small wind turbines and zero emission buildings. Advancement in S&T (science and technology) and high technology areas is of particular importance for India's development priorities," he said.
Referring to the activation of the telescope, he said it was an "inspiring example" of Indo-Belgian collaboration.
"The work is also afoot on other agreements in the areas of information and communication technology, audio-visual production, tourism, biotechnology and shipping and ports," the prime minister said.
Referring to the India-European Union (EU) summit he is scheduled to attend later in the day, he said trade, investment, and technology partnership between the two sides would be one of the focus areas.
Wednesday is the first day of Modi's three-nation that will also take him to the US and Saudi Arabia.