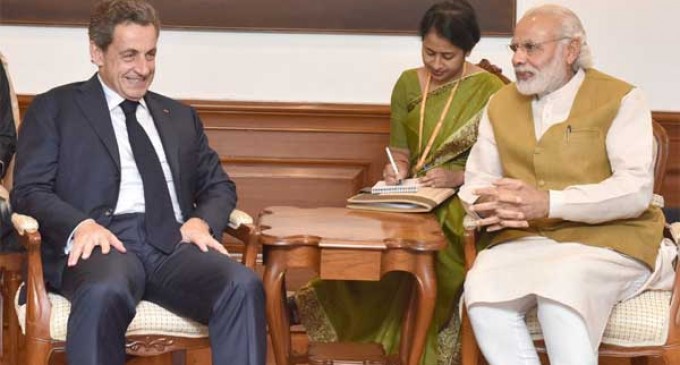 New Delhi, April 14  Prime Minister Narendra Modi and former French president Nicolas Sarkozy, who is on a visit to India, on Wednesday called for concrete action by the global community against threat of terrorism.
Modi and Sarkozy condemned the recent terrorist attacks in Paris, Pathankot, Brussels and other parts of the world, and called for concrete action by the global community against the threat of terrorism, said an official statement issued after a meeting between the two leaders.
At least 130 people were killed in the terror attacks in the French capital on November 13 last year while 32 people were killed in the attacks in Brussels on March 22 this year.
At least seven Indian security personnel lost their lives in a cross-border terror attack on an Indian Air Force base in Pathankot, Punjab, on January 22 this year.
Wednesday's statement said Sarkozy also congratulated Prime Minister Modi for the positive role played by India for the success of the Conference of Parties (CoP)-21 climate summit in Paris last year.
"The prime minister congratulated Sarkozy on the publication and success of his recent book, 'La France pour la vie'," it stated.
Ahead of the meeting with Modi, Sarkozy called on External Affairs Minister Sushma Swaraj here.
Earlier on Wednesday, addressing a conference jointly organised by the Federation of Indian Chambers of Commerce and Industry and the Indo-French Chamber of Commerce and Industry, Sarkozy said that Britain's exit from the European Union would be a "very bad thing" for Europe and have disastrous consequences for the country itself.
"In my personal opinion, Brexit (Britain's exit from the EU) will be a very bad thing for Europe because of the simple reason that Great Britain at the moment is the second biggest economy in Europe. To lose the second biggest economy will be a big loss," he said.
Referring to Britain's referendum on EU membership slated this summer, the visiting former French president said that in case the move happens, it will be a "catastrophe for Great Britain".
If Britain exits from European Union, American companies would arrive, owing to the close relationship between the two nations, he said
"So, there will be a very serious consequence," Sarkozy added.
Noting that India and France had a free-trade agreement that benefitted both nations, Sarkozy suggested that the 'Make in India' campaign could be rephrased as 'Make with India' as it would help strengthen the partnership between India and France while paving the way for future collaborations.