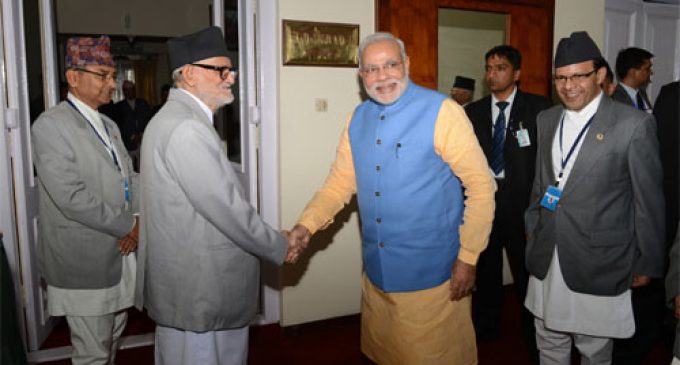 Kathmandu, Aug 3 Indian Prime Minister Narendra Modi held one-on-one talks with his Nepali counterpart Sushil Koirala at the Office of the Prime Minister and Council of Ministers at Singhdurbar here Sunday afternoon, officials said.
Koirala warmly welcomed Modi and expressed hope that his visit, the first by an Indian prime minister in 17 years, would greatly contribute to the strengthening and promotion of bilateral relations and cooperation, said a statement issued by the Nepal's Prime Minister Office.
It also stated that the Indian prime minister thanked Nepal's prime minister for his invitation which provided him with an opportunity to visit Nepal in less than 100 days of his assuming office in New Delhi.
The two prime ministers exchanged views on political developments in their countries. Prime Minister Koirala mentioned the ongoing peace process in Nepal and stated that drafting of new constitution was his government's topmost priority.
He added that Nepal would be an inclusive society as a federal democratic republic. He thanked the Indian government for its support to Nepal's peace process. He also spoke about Nepal's plan to graduate from least developed country (LDC) status by 2022 and expected India's cooperation in this endeavour.
The Indian prime minister expressed his willingness to extend all possible support to Nepal's peace process and its development endeavours.
Following the meeting, the two prime ministers held delegation-level talks in which the two sides reviewed the overall state of bilateral relations and cooperation between Nepal and India.
They expressed satisfaction at the reactivation of Nepal-India Joint Commission whose third meeting meeting was held in Kathmandu last month, and directed their respective authorities to take up the implementation of the decisions taken during the meeting.
The two delegations discussed a wide range of issues between the two countries, including political cooperation, trade and transit, development cooperation, water resources, earlier treaties and agreements, including the 1950 Treaty of Peace and Friendship, mutual security, and boundary issues.
The two prime ministers expressed satisfaction at the state of bilateral relations and committed to work together to take relations and cooperation to a new height.
They directed the authorities concerned of both countries to expedite the ongoing projects for their timely completion, and explore new areas of cooperation which could be taken up for mutual benefit.
The Indian prime minister stated that India stands ready to resolve boundary issues, take measures to narrow Nepal's trade deficit, and accommodate Nepal's concerns with regard to the Treaty of Peace and Friendship of 1950. He urged Nepal to capitalise on the huge opportunities available in India as a huge market for the Nepalese products.
The two prime ministers underscored the importance of building trust between the two countries and move forward with a new vision and resolve. They also emphasised on enhancing interactions between the youths of the two countries.
During the delegation level talks, senior government officials from both sides were present.