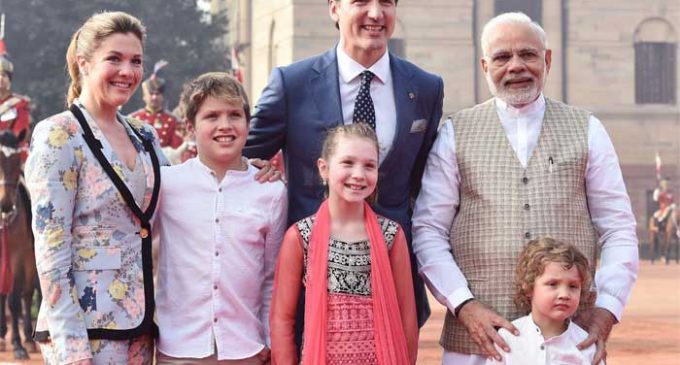 New Delhi, Feb 23 (IANS) Prime Minister Narendra Modi met his Canadian counterpart Justin Trudeau on Friday welcoming him with a hug ahead of a ceremonial reception at the Rashtrapati Bhavan, putting to rest speculations about the government cold-shouldering the visiting dignitary.
After Trudeau, his wife Sophie, and children Xavier, Ella-Grace and Hadrien, alighted from a car on the forecourt of the Rashtrapati Bhavan. Modi shook hands with Trudeau and then hugged him.
On Thursday evening breaking his silence since the Canadian Prime Minister's arrival in India on February 17, Modi said that he looked forward to the bilateral meeting on Friday.
"I appreciate his (Trudeau's) deep commitment to ties between our two countries," Modi tweeted.
At the Rashtrapati Bhavan, while Modi shook hands with Sophie Trudeau, Xavier and little Hadrien, he had a special hug reserved for Elle-Grace.
On Thursday, the Indian leader had posted a picture of him playfully tweaking Elle-Grace's ears with Trudeau smilingly looking on during a visit to Canada in 2015.
"I particularly look forward to meeting his children Xavier, Ella-Grace, and Hadrien," Modi said in his tweet.
Hadrien, who will turn four this month, was the cynosure of all eyes at the Rashtrapati Bhavan as he stumbled and struggled to hold on to his hat as Modi playfully stroked his cheeks.
The ceremonial reception optics came after much speculation that Modi and his government was cold-shouldering Trudeau during his eight-day state visit to India.
The visiting dignitary and his family have since visited Agra, Ahmedabad, Mumbai and Amritsar.
While Modi did not accompany Trudeau to Ahmedabad, a meeting with Punjab Chief Minister Amarinder Singh in Amritsar on Wednesday was organised only at the last moment.
Ties between New Delhi and Ottawa have been frosty of late as Canada was being seen as offering a platform to separatists demanding an independent Khalistan.
On Thursday, fresh storm blew after it came to light that the Canadian High Commission here had extended an invitation to a convicted Khalistan separatist, Jaspa Atwal, for a reception in honour of Trudeau.
The High Commission then rescinded the invitation while the Indian External Affairs Ministry said that it was ascertaining how a visa was issued to Atwal who holds a Canadian passport.
Trudeau later said that the matter was being taken "extremely seriously" and that Atwal should never have received an invitation.
The visit of Trudeau, who assumed office in November 2015, comes after the visit of Modi to Canada in April that year.
Following Friday's bilateral summit between the two leaders, a number of agreements were expected to be signed.