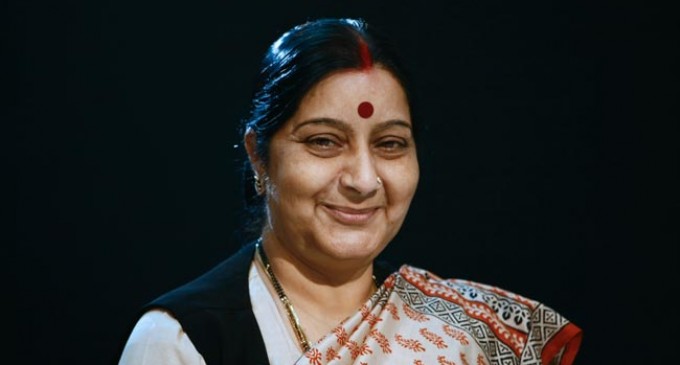 Hanoi, Aug 24 The Narendra Modi government will strive to give a greater push to India's Look East Policy, turning it into "acting East", External Affairs Minister Sushma Swaraj said in the Vietnamese capital Sunday as she arrived on a three-day visit.
Sushma Swaraj, addressing a gathering of the Indian diaspora here, said the Modi government, which rode to power on the back of a huge mandate, "will not disappoint" the people of India.
The minister, who is visiting her sixth neighbouring country since she took over as minister in mid-May, also said that India would seek to cooperate with Vietnam in rice exports. India has helped Vietnam with its knowhow in rice cultivation through a rice centre set up here, she said adding "look today, at how they have left us behind" in rice exports.
"We want to go in for joint rice exports with Vietnam," she said.
Sushma Swaraj is to chair a meeting of the heads of Indian Missions in the region besides inaugurating the 3rd Round-table of the ASEAN-India Network of think tanks here Monday.
She said India has "very good" defence and security cooperation with Vietnam as well as in agricultural cooperation.
The minister's visit is a preparatory to the state visit of President Pranab Mukherjee to Vietnam Sep 14-16.
The visit of the Indian minister and forthcoming visit of President Mukherjee to this Southeast Asian nation assumes significance in the backdrop of Chinese President Xi Jinping's India visit in the third week of September.
China and Vietnam are locked in a stand-off over the contested South China Sea after Beijing positioned an oil rig near the Paracel islands, which Hanoi claims as its territory, in May.
Elaborating on India's Look East Policy, Sushma Swaraj said that under the Modi government "it is time to make it Acting East and Vietnam has a huge role to play in it."
She said she would look into newer areas of cooperation during her bilateral talks with President Truong Tan Sang and Vice President Nguyan Tha Doan and other senior officials here.
Praising the contribution of the around 2,000 Indian diaspora to Vietnam's development and in the building of ties with the southeast Asian nation with which India has age old ties, Sushma Swaraj said: "India and Vietnam are just not geographically close, but have very, very close ties."
The visit to Vietnam is Sushma Swaraj's first stand-alone visit to Southeast Asia. The last high level visit from Vietnam was by Vietnamese Communist Party general secretary Nguyen Ph Trong, last November.
During Trong's visit Vietnam had invited India to hunt for oil and gas in the disputed South China Sea. India had also made Hanoi the offer of $100 million line of credit for the purchase of four Offshore Patrol Vessels.
Both the countries also have fairly robust economic ties and the bilateral trade stands at $8 billion, of which Indian exports to the country is about $5.4 billion.
"We see prospects in the current situation in terms of enhancing our ties including in areas such as textile, pharmaceuticals and agricultural products," external affairs ministry spokesperson Syed Akbaruddin said earlier.