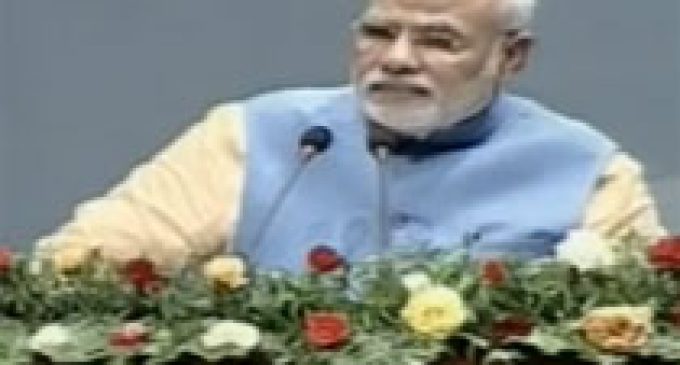 By TN Ashok   Diplomatic Editor
New Delhi, Sept 03 : Indian premier Narendra Modi is easily one of the best orators the political world has seen in recent times and at times bringing back memories of the oratory skills of the post independent premier Jawaharlal Nehru whose compulsive and expansive erudition made him a darling in the international arena.
Modi too is fast becoming a darling of the international world particularly the business and investing community as it cheers his remarks such as " Red Carpet" replaces " Red Tapism" as not only indian investors but also foreign investors have had to make countless rounds in the corridors of power for getting clearances to get their projects off the ground and stave of time and cost escalation.
A sampling of his comments made on the much acclaimed Japanese visit.
Is India still a land of snake charmers? A western biased look at India which prompted a Taiwanese businessman to ask this question to Modi.
Modi replied in right earnest: "Earlier we used to play with snakes, now we play with a mouse." In a speech to the Indian community at Tokyo, Modi said Now we move a mouse, the whole world moves." He was referring to the growing IT industry in India which has pushed up India's GDP over the years and acted as a firewall against the backlash of global recession.
The World Economic Forum has rated India me 121st out of 144 economies ranked as per their technological readiness in its Global Competitiveness report 2014-2015.
"There is no red tape but red carpet in India," Mr. Modi told Japanese businessmen, while inviting them to invest in India.
India ranks 134 out of 189 countries in terms of ease of doing business, according to a World Bank report published in 2013.
"Being a Gujarati, commerce is in my blood,"  Modi said, alluding to a general perception that people from the western indian state are commercially oriented that they are active in the stock market.
"India is incomplete without Japan. Japan is incomplete without India," said Mr. Modi, referring to Japan's leadership in making hardware and India's strength in making software programs.