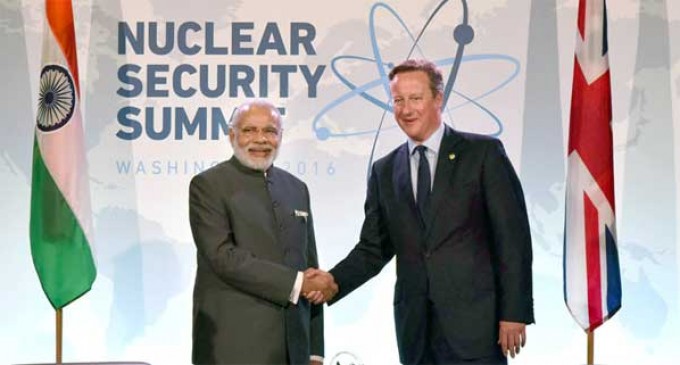 Washington, April 2  Amid speculation about Tata Steel's plans to close down its operations in Britain, Prime Minister Narendra Modi on Friday held a bilateral meeting with his British counterpart David Cameron on the sidelines of the Fourth Nuclear Security Summit here.
"Enhancing a vibrant partnership… PM @narendramodi & PM @David_Cameron talk India-UK ties," the Prime Minister's Office tweeted.
The meeting assumes significance as Tata Steel, after having suffered nearly $3 billion in losses on its British operations, is exploring to put its entire portfolio there up for sale, some 10 years after it forayed into Europe by acquiring Anglo-Dutch Corus for over $8.1 billion.
With around 40,000 jobs at stake, Cameron was expected to take up the matter with Modi during the bilateral meeting here, according to media reports.
However, steel sector analysts are of the view that it is going to be difficult for the Indian group to find a buyer at this juncture when the sector is facing a downturn.
The decision comes less than a week after Tata Steel UK said it has reached an agreement to sell its Clydebridge and Dalzell steel facilities in Scotland to the local government, which will, in turn, hive it off to Liberty House, an international steel and non-ferrous metals group.
Earlier on Friday, Modi held a bilateral meeting with Canadian Prime Minister Justin Trudeau.
In Friday's nuclear security summit, Modi is expected to share India's progress report on the work it has done since the last summit and also give his suggestions in the form of interventions.
This year's summit is the fourth and final of the biennial affairs.
The first summit was held in Washington in April 2010 followed by the summits in Seoul in March 2012 and The Hague in March 2014.