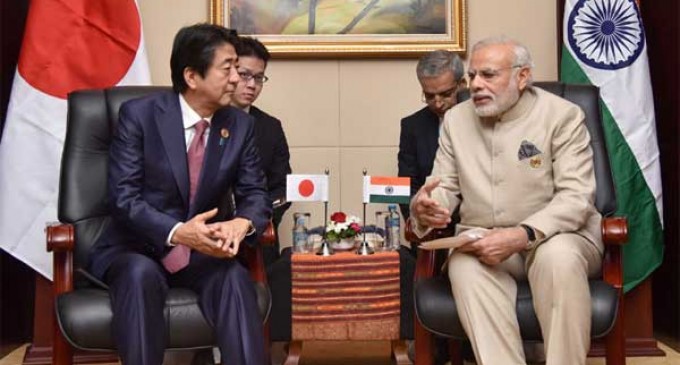 Vientiane (Laos), Sep 8  Prime Ministers Narendra Modi of India and Shinzo Abe of Japan on Wednesday reviewed progress in the India-Japan Civil Nuclear Cooperation Agreement and the high-speed rail project.
Officials said Modi conveyed his condolences over the recent typhoon that hit Japan and the Japanese killed in the terror attack in Dhaka in July.
Abe said Japan was not going to succumb to terrorism and wanted to further strengthen cooperation with India in the area of counter terrorism.
It was Modi's first bilateral meeting here on the sidelines of the 14th India-Asean Summit and the 11th East Asia Summit.
Modi and Abe discussed further strengthening and diversification of trade and investment ties.
They discussed the upcoming Japanese Industrial Parks in India and cooperation in the area of ship breaking.
They also reviewed the progress in the India-Japan Civil Nuclear Cooperation Agreement and the high-speed rail project. They also discussed regional issues and international developments.
Modi said Japan had technology and innovation while India had the power of youth and a huge market. The India-Japan partnership could, therefore, produce global products and be a win-win relationship for both.
He expressed appreciation "for the consistent support" rendered by Japan in India's infrastructure development, technology upgradation and skill building.
Abe said he was looking forward to Modi's visit to Japan for the annual summit and expressed the hope that it would promote a new era of bilateral cooperation.
Abe recalled that 2017 would mark the 60th Anniversary of the Japan-India Cultural Agreement and hoped to see more Indian tourists visiting Japan.
External Affairs Ministry spokesperson Vikas Swarup earlier quoted Modi as saying that his first meeting was with "a special friend and a valued partner".
"Furthering the relationship with greatest potential, 1st bilateral is w/special friend & valued partner, PM AbeShinzo," Swarup tweeted.