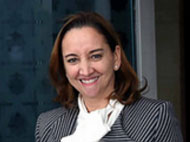 New Delhi, March 11 (IANS) Among the things Mexico can learn from India is dealing with the diaspora, the Latin American country's Minister for Foreign Affairs Claudia Ruiz-Massieu Salinas said on Friday.
"India has the largest diaspora at 16 million. Mexico has the second largest at 12 million," Salinas, who arrived here on Friday on a two-day visit, said while delivering the 22nd Sapru House Lecture.
"India has a long tradition of recognising the value of its diaspora abroad for public diplomacy," she said.
In this connection, she also referred to the merger of the ministry of overseas Indian affairs with the ministry of external affairs.
On India-Mexico relations, she said that both countries shared a vision of the future and their place as regional power and economic hubs.
"Back home we call it 'Moving Mexico'. Here you call it 'Make in India'," Salinas said.
"Surprisingly there are a lot of similarities and they run in parallel directions. One pillar of 'Make in India' is to attract and facilitating investments. In Mexico, wed are trying to increase productivity and investments."
She said "Make in India" was also aimed at training and creating jobs for students.
"In Mexico, we accomplished an ambitious education reform that is focusing not only on ensuring that all Mexicans, all children and young people have access to education but to quality education," the minister said.
"We are focusing on permanent training of our teachers and giving our students the skills and abilities to become global citizens and to compete in a highly integrated and inter-connected world."
Salinas said while an integral part of "Make in India" was business facilitation for economic competitiveness, it was fiscal and financial reforms for "Moving Mexico".
"An important objective of "Make in India" is to remove absolute limits to foreign direct investments. In Mexico, we have energy reforms, telecom reforms," she said.
While India was planning to build 100 smart cities and provide affordable housing, Mexico was creating special economic zones.
"Mexico is a natural bridge for India to dive into one of the most dynamic regions worldwide," the minister said.
"Our network of free trade agreements and strategic make us an entry way to North America and Latin America."
Salinas lamented that trade between Mexico and India has only grown 19 percent in the last decade.
"Two G20 economies with the size of Mexico and India should increase trading figures," she said.
Mexico is the 13th largest country and at $1 trillion is the 15th largest economy in the world.
"We have to work together and explore new opportunities to deepen our economic and trade exchange," the Mexican minister said, adding that manufacturing and pharmaceuticals were among such areas.
She said that Mexico was India's second largest Latin American investor.
"In Latin America, Mexico is the second destination for India in foreign direct investments. However, we acknowledge that the approximately 170 Indian firms, mainly from the automotive, pharmaceuticals and the IT sectors are established in Mexico," Salinas said, adding that India was home to 11 Mexican firms from various sectors.
She mentioned automotive, mining, information technology, technology as sectors Indian companies can invest in Mexico.
Earlier on Friday, after her arrival, Salinas called on Prime Minister Narendra Modi.
She is scheduled to hold bilateral talks with External Affairs Minister Sushma Swaraj on Saturday.