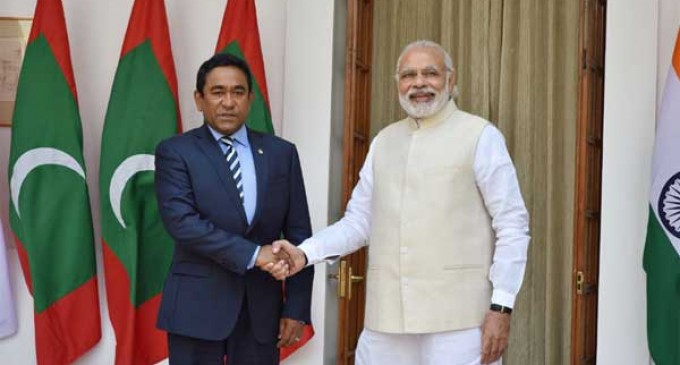 New Delhi, April 11  Referring to India's Neighbourhood First policy, Prime Minister Narendra Modi on Monday said that the security and stability of the Maldives are in the interest of India.
"The Maldives is among India's closest partners," Modi said while addressing the media after holding bilateral delegation-level talks with visiting Maldivian President Abdulla Yameen Abdul Gayoom over a working lunch here.
"The stability and security of the Maldives are in the interest of India," he said.
The prime minister's statement comes in the face of China's growing influence and investments in the Indian Ocean archipelago nation.
India and the Maldives exchanged six agreements in the fields of taxation, tourism, space research, defence and conservation of mosques following Monday's talks.
Referring to India's Neighbourhood First foreign policy, Modi said he and President Yameen discussed the entire gamut of bilateral relations.
"India understands its role as a net security provider in the Indian Ocean and is ready to protect its strategic interests in this region," Modi said.
"The prompt implementation of a concrete action plan in the defence sector will strengthen our security cooperation," he said.
The prime minister said that development of ports, continuous training, capacity building, supply of equipment and maritime surveillance would be the main elements of the security cooperation.
"President Yameen and I are aware of the growing dangers of cross-border terrorism and radicalisation in South Asia," he said.
"Information exchange between security agencies and training and capacity building of Maldives Police and security forces is an important part of our security cooperation."
Modi also said that the South Asian Satellite proposed by India would help the Maldives in the fields of education, health and tourism.
He said the agreement on cooperation in the tourism sector would boost people-to-people ties.
The agreement on conservation of ancient mosques in the Maldives would strengthen cultural ties, he said.
"President Yameen, India is a well-wisher and will match steps with the Maldives in its journey towards progress," the prime minister said.
On his part, President Yameen said that India was the most important friend of the Maldives.
"Our ties are based on civilisational roots," he said.
"Our security is intimately linked with India's security."
Earlier on Monday, External Affairs Minister Sushma Swaraj called on President Yameen in his first engagement of the day in the city.
Yameen is also scheduled to call on President Pranab Mukherjee on Monday evening before departing from India.
Yameen had earlier come to India on a bilateral visit in January 2014 and was among the South Asian leaders who attended Prime Minister Modi's swearing-in in May 2014.
Though India and the Maldives completed 50 years of diplomatic ties last year and the two countries historically enjoy a close relationship, Yameen's visit assumes significance because of New Delhi's discomfiture over China's increasing investments and influence in the Indian Ocean region.
Sushma Swaraj visited the Maldives in November 2014 and again in October 2015 for the India-Maldives Joint Commission meeting, which was held after 15 years.
This year, Maldivian ministerial delegations to India, led by the foreign minister, defence minister, tourism minister, and foreign secretary "have further strengthened bilateral ties between India and Maldives", said a Maldives high commission statement.