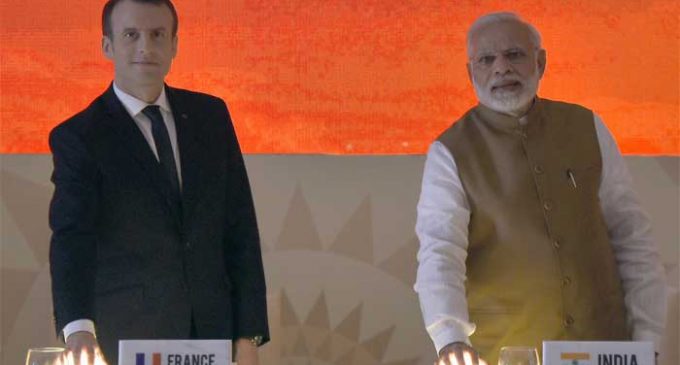 New Delhi, March 11 (IANS) French President Emmanuel Macron on Sunday announced an additional investment of 700 million euros for global solar energy generation by 2022 to reduce the use of fossil fuel and help combat climate change.
Speaking at the launch of the first International Solar Alliance (ISA) summit, Macron called for "joint duties" towards a "planet that we are sharing" and took a dig at his US counterpart Donald Trump who pulled out of the 2015 Paris climate deal.
Macron said the summit to revolutionize the use of the clean energy by generating over 1,000 GW of solar power by 2030 was an outcome of the Paris accord even as "some left the floor" but others decided to act and keep acting.
The French President co-chaired the summit with with Prime Minister Narendra Modi at the Rashtrapati Bhavan that was also attended by the heads of 23 nations and 10 ministerial representatives.
Among those present were UN Secretary-General Antonio Guterres, Venezuelan President Nicolas Maduro and Bangladesh President Abdul Hamid.
"The French Development Agency will allocate additional 700 million euros to its commitment to solar energy by 2022," Macron said.
This will take France's total commitment to the solar alliance to 1,000 million euros.
"In 2015, we said we will allocate some 300 million euros to support (solar) projects in the member countries. This commitment by France was met a couple of months ago."
Conceptualised by India, the solar alliance currently has 121 member countries. Out of those, 60 have signed the solar treaty and some 30 have ratified it.
The alliance of sun-rich countries was launched jointly by Modi and then French President Francois Hollande on the sidelines of the landmark 2015-Paris climate talks.
Without taking President Trump's name, Macron at the Delhi summit said while some left the climate deal others stayed because they wish good for their children and grand children.
"All of us her have experienced global warming. Some of you here have lost your territories, economy and life of citizens.
"We should not forget that we only have one planet that we are sharing and for that there is no alternative. There is a joint destiny which means we also have some joint duties.
"Without the concept of climate justice there would have been no Paris Agreement."
The French President pointed out that the alliance of the countries situated between the Tropics of Capricorn and Cancer account for three-fourth of the world's population with a potential of 138 GW of solar power.
But, he said, only 50 to 60 per cent people living in the region have access to electricity.
Macron said the alliance needed to identify solar projects in every single member country.
"Each country with its solar energy potential will identify here their needs and how much finance they need. One hundred projects have already been listed," he said, further calling the member states that investments in "these projects are very profitable".
Under the ISA, 100 centres for excellence would train 10,000 technicians to achieve the target of 1,000 GW of solar energy that needs $1,000 billion, the President said.
He said the ISA should help small enterprises in small countries to help them mobilize projects and finances.
"But in order to reach $1,000 by 2030, to reach 1,000 GW solar energy, we need private investors. The alliance will provide a favourable framework," he assured, adding that France, India, the World Bank and other member states were reviewing expensive existing guarantee mechanism.
The French President stressed on the affordable low cost solar solutions, saying "the alliance should be a place where technology can meet the expectations of people and country".
He lauded India's solar commitments that has 20 GW installed solar capacity – one of the fastest growing in the world. The country has increased its solar power capacity by about eight times over the past four years.
India's wind power generation capacity is 32.8 GW. It aims to achieve 175 GW of clean energy by 2022, of which 100 GW is solar.