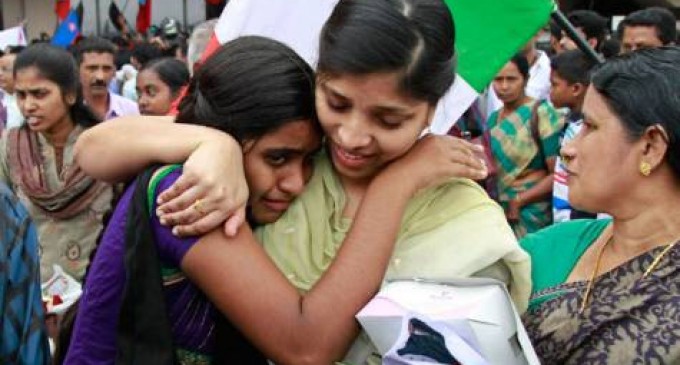 Majority to reach Kochi, rest to Delhi and Hyderabad
Security Deteriorating, Indians Asked To Leave
By TN Ashok,   Diplomatic Editor
New Delhi, August 01 Some 58 nurses are heading home to Kochi late tonight besides some others to Delhi and Hyderabad as the Indian embassy has made arrangements to fly them by a special plane after they reach Tunis from strife torn Libya.
An official spokesman of the ministry of external affairs Syed Akbaruddin told newsmen today that the Indian ambassador in Tripoli was himself stationed at the border to receive the nurses to ensure they cross over to Tunis to take the flight.
"Most of the nurses are from Kerala and tickets have been booked for them to fly to Kochi", he said.
"Following the success of this, we will have smaller numbers flying out to India the day after and the day after that ", he said adding a special flight if necessary was also being arranged to allow people to come to Zarba, two hours from the border of Libya, the idea being that if there are enough numbers, then we obviate the need for them to travel to Tunis and fly them out from Zarba.
If smaller numbers continue then we will have to take them to Tunis and fly them out, he said adding the Indian embassy in Tripoli was advising all Indians in Libya to leave immediately as the security situation in Libya was steadily deteriorating.
For those Indians stranded in the Benghazi region in eastern Libya, the Indian embassy is making arrangements for them to travel out, the spokesman said pointing out that if necessary a vessel would be hired to take them out from Benghazi to Malta. "We are pre positioning people in Malta so that when the vessel arrives with Indians, they can be received on land and facilitated for their return to India, he said.
The government of Malta was also assisting Indian officials in this evacuation effort. And India was making all arrangements to fly the Indians out of Malta back home, he said.
The spokesman said all Indians in Libya have been advised to leave immediately as the security situation was tense and the Indian government was making all possible arrangements to bring back home each and every Indian in the North West African nation rocked by violent clashes between government forces and militant Islamic groups.