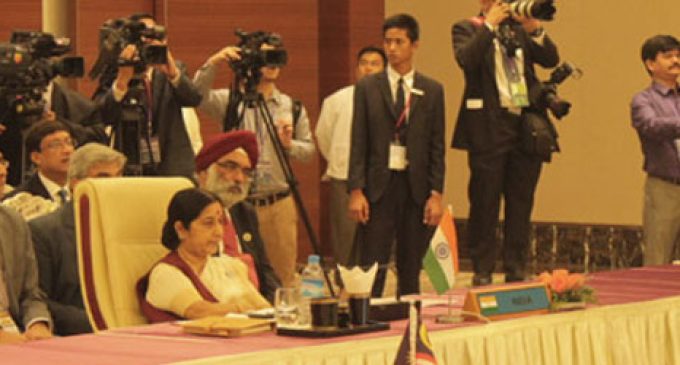 Nai Pyi Taw, Aug 9 External Affairs Minister Sushma Swaraj Saturday said India's relations with the 10 ASEAN countries have reached a critical stage, which could be elevated with the five-year plan of action starting 2016.
Addressing the 12th India-ASEAN Foreign Ministers Meeting in Myanmar's capital city, Swaraj emphasised on connectivity, trade and investment and tourism to bring about a seamless integration of economic spaces, enabling maximum optimisation of human and resource potential between the two sides.
She hoped that the economic and trade ministers will be able to sign the Free Trade Agreement (FTA) on services and investment when they meet later this month and agree on the modalities for setting up a dedicated ASEAN India Trade and Investment Centre.
"We have suggested that India, Myanmar and Thailand begin negotiations on a Transit Transport Agreement at the earliest so that this can be concluded by the time the Trilateral Highway completes in 2016," Swaraj said.
Saying that Asean-India integration keeps pace, particularly in view of the efforts to form an ASEAN Community by 2015, she said: "Our history and present collaboration has bearing on the future outlook of the region and also globally as we seek to address an expanding canvas of challenges.
"ASEAN and India can together bring strength to global solutions on food and energy security, disaster management and sustained development."
There are 26 cross-sectoral annual dialogue mechanisms between India and ASEAN."We should soon be drafting our next Plan of Action for 2016-21. The vision statement and the Report of the ASEAN-India Eminent Persons Group are good reference points, but our interpretation of these needs to be grounded in the geo-political realities of today and the common aspirations of our poeple for growth and development," she suggested.
The external affairs minister met her counterparts of the ASEAN countries and invited all the delegates to attend the Delhi Dialogue VII, scheduled to be held March 11-12, 2015.
"We would like to further strengthen our people-to-people programmes with ASEAN…I suggest extension of the Media Exchange Programme for another three years," she said at the meeting.
Swaraj also announced the reactivation of ASEAN India's official website (www.aseanindia.com).The site is currently being revamped.
She also announced her visit to Vietnam to continue her discussions with Foreign Minister Pham Binh Minh and inaugurate with him the 3rd Roundtable of the ASEAN-India Network of Think Tanks August 25.