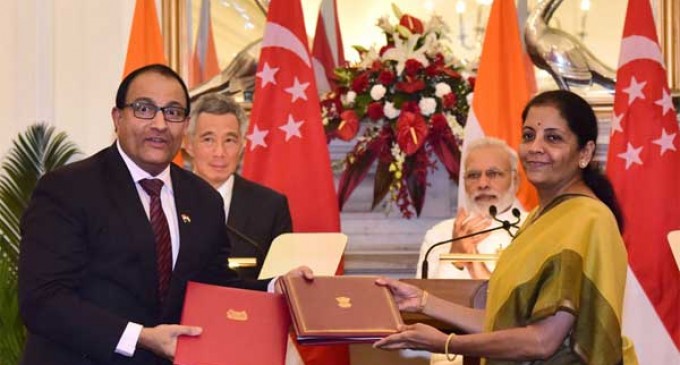 New Delhi, Oct 5  Almost a year after they elevated bilateral ties to a strategic partnership, India and Singapore further cemented their relationship with the inking of three new agreements on Tuesday, as Prime Minister Narendra Modi and visiting Singapore Prime Minister Lee Hsien Loong held talks here and decided to boost cooperation in countering threats of rising terrorism.
Modi and Lee, who is in India on a five-day working visit, held talks at Hyderabad House after which the two witnessed the inking of three agreements in skill development and industrial property.
Voicing concern over cross-border terrorism, with obvious reference to Pakistan, Prime Minister Modi said in his media statement: "Rising tide of terrorism, especially cross-border terrorism, and the rise of radicalisation are grave challenges to our security."
"They threaten the very fabric of our societies," Modi said.
Lee, in his press statement, condemned terrorism and offered his condolences to the families of those killed in the September 18 terror attack on an army camp in Uri, Jammu and Kashmir.
Referring to his visit to Singapore last November when ties were enhanced to Strategic Partnership with "Renewed Spirit, New Energy", Modi said both sides had drawn up a road map to realize their ambitious cooperative agenda. On Tuesday, both leaders "undertook a detailed review of the shape and substance of our strategic partnership", he said.
Both leaders have agreed to expedite the second review of the Comprehensive Economic Cooperation Agreement.
Modi said the MOU on Intellectual Property, inked on Tuesday, would facilitate greater business to business exchanges and collaborations. "Prime Minister Lee and I also welcome the issuance of corporate Rupee bonds in Singapore," Modi said, describing it as "a step forward" in efforts to mobilize capital for India's large infrastructure development needs.
Modi said that both countries have agreed to enhance cooperation to counter the threats of terrorism and radicalisation, including in cyber security.
"Our defence and security cooperation is a key pillar of our strategic partnership," he stated.
"As two maritime nations, keeping the sea lanes of communication open, and respect for international legal order of seas and oceans is a shared priority," Modi said, in an oblique reference to the South China Sea dispute.
Modi said their cooperation in the framework of Asean, East Asia Summit and the Asean Regional Framework is aimed at building an open and inclusive architecture for regional cooperation, in an atmosphere of trust and confidence.
Lee, in his remarks, said there is growing optimism about India's prospects due to the dynamic leadership and clear vision of Prime Minister Modi.
"Singapore is happy to support India's efforts to transform its economy, and to give India's youth the skills they need," he said.
Both leaders also discussed boosting economic ties by setting up a Finance Dialogue between the finance ministries of both countries.
Singapore was one of India's largest sources of foreign direct investment in 2015, and more than 8,000 Indian companies are present in Singapore, said Lee.
He added that senior ministers on both sides will be appointed to find win-win outcomes for both countries. On the Singapore side, Deputy Prime Minister Tharman Shanmugaratnam will be appointed for the task. India will appoint Finance Minister Arun Jaitley, the Straits Times reported.
Lee also made a push for more flights and better air connectivity.
"More flights will boost our people-to-people and business links further," Lee said, noting that Singapore Airline's Scoot launched its maiden flight from Singapore to Jaipur on Sunday, making the Rajasthan capital the 15th Indian city to be connected directly to Singapore.
India and Singapore signed three memoranda of understanding (MoUs).
One MoU was signed between Singapore's Institute of Technical Education (ITE) Education Services (ITEES) and India's National Skill Development Corporation on collaboration in technical and vocational education and training.
Another MoU was between the Assam government and ITEES Singapore, also on collaboration in technical and vocational education and training.
A third MoU was in the field of industrial property cooperation between India's Department of Industrial Policy and Promotion (DIPP) and Intellectual Property Office Singapore.
Earlier on Tuesday, External Affairs Minister Sushma Swaraj called on Lee.