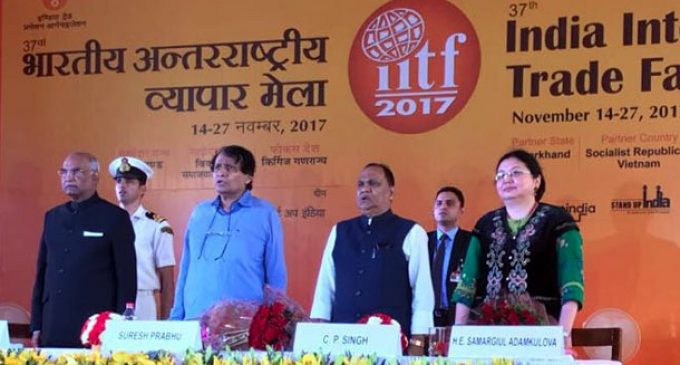 New Delhi, Nov 15 (IANS) It's called the Switzerland of Central Asia with its breathtaking landscapes and snow-capped mountains, has one of the most liberal tourist visas of the region and is celebrating the silver jubilee of its diplomatic relations with India. As the Focus Country at the India International Trade Fair (IITF), Kyrgyzstan is pulling out all stops to push for greater business ties with India.
"This year is very special in our bilateral relation. We are celebrating 25th anniversary of our diplomatic relations. Within these 25 years we have laid a very solid foundation for connectivity between our countries — people to people, government to government. Now, I think it's high time that we connected our businesses.
"Therefore, we are very honored to be a part of such a prestigious event like IITF," Kyrgyz Ambassador Samargiul Adamkulova told IANS at the trade fair.
Being the Focus Country has enabled Kyrgyzstan put up nine stalls at the fair, with one of them offering white honey, another an array of traditional hats called 'kalpak' in the native tongue and also milk mushrooms, thus named because of the variously coloured juices they exude when cut.
The ambassador termed the event "an opportunity to forge a business to business relations between the two countries", emphasising "that this would only be a natural development since there's already much familiarity of their cultures".
The diplomat said that since the launch of a direct flight in 2014, the number of tourists from India to Kyrgyzstan have increased 15 times and cited this as an example of natural affinity between the people of the two countries.
"Kyrgyz people know about India; they know Indian movies and Indian music and they know about Indian heritage places," she said.
Kyrgyzstan is a place for all seasons, she said, with seven regions famous for an equal number of food products grown there.
"This is the beauty of Kyrgyzstan. Each region has its own identity. We have all seasons there…. white honey is extracted in Naryn, Osh is famous for melons, Issyk-Kul is famous for berries, Batken for apricots, Chul is famous for cherries and grapes and Talas region is famous for its beans, red beans and kidney beans. And from Jalalabat, you get wallnuts," the ambassador said.
Nurgul Kenzhekulova, a sales assistant at one of the counters, told IANS that the unique white honey of Kyrgyzstan is different from the usual golden one that we are used to see, because it is extracted from specific flowers high up in the northern part of her country.
"During summer, beekeepers go up in the mountain regions to extract honey from such flowers such as alfalfa, sage, and sainfoin," said Kenzhekulova, who is studying for an MBA degree from Gujarat and is currently employed as an intern at I.K. Overseas — a Kyrgyz company selling white honey.
Kyrgyzstan emerged as an independent country following the collapse of the Soviet Union in 1991. It has participated in the IITF twice before.
Source : Sarkaritel.com