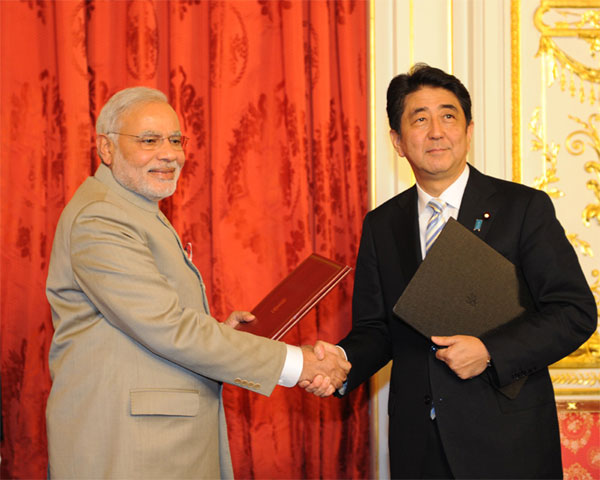 Tokyo, Sep 1 Prime Minister Narendra Modi Monday signalled a new era of ties with Japan and welcomed the commitment made by his host and Japanese counterpart Shinzo Abe to invest $35 billion in India over the next five years.
Emphasising his official talks with Abe had seen some positive outcomes like cooperation on nuclear energy, notably the removal of sanctions by Tokyo on Indian entities, Modi said the five pacts inked Monday showed the special strategic ties of the two nations.
The five agreements cover health, clean energy, women development, roads sector and Kyoto-Varanasi agreement. This apart, Modi said, Japan had agreed to extend both technical and financial support to the proposed bullet train project in India.
"Prime Minister (Shinzo Abe) promised to invest $35.5 billion in India. I welcome that," Modi said in a joint interaction with the media, immediately after concluding the official, Summit-level talks with his Japanese counterpart.
"No country has done more for modernizing India's infrastructure than Japan," said the Indian prime minister. "It is our determination to increase our economic ties. The scale at which Japan is extending support shows nature of our relations."
At the same time, he added, India-Japan ties are not restricted to economy alone.
"We also had extensive talks with Japan on the civil nuclear deal. These talks have also moved forward. We have now instructed our officials to take the nuclear talks forward," said Modi.