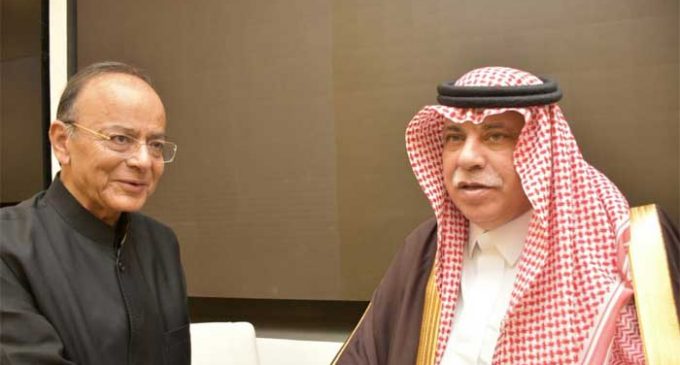 Riyadh, Feb 20 (IANS) Indian Finance Minister Arun Jaitley led the country's delegation at the 12th India-Saudi Arabia Joint Consultative Mechanism meeting here on Monday.
The Saudi delegation at the talks was led by the kingdom's Trade Minister Majid Al Qasabi.
"Co-chairing the 12th India-Saudi Arabia Joint Consultative Mechanism meeting with H.E. Dr. Majid Al Qasabi, Minister of Trade & Investment, Kingdom of Saudi Arabia," Jaitley said in a tweet on Monday.
In separate tweets earlier, Jaitley said he had meetings on Sunday with his Saudi counterpart Mohammed bin Abdullah Al-Jadaan, as well as with the Saudi Minister of Energy, Industry and Mineral Resources Khalid bin Abdulaziz Al-Falih.
On Sunday, the Indian Finance Minister also attended a meeting with Saudi corporate leaders at the Council of Saudi Chamber (CSC), where he was received by CSC chairman Ahmed Sulaiman Al-Rajhi.
"The progressively growing cooperation between the Kingdom and India in the fields of trade and commerce, and how to strengthen trade ties, figured prominently in the meeting," the CSC said in a statement here.
Jaitley is on a two-day official visit to Saudi Arabia to co-chair the 12th India-Saudi Arabia Joint Consultative Mechanism meeting during February 18-19.
On Sunday, Jaitley called on Saudi Arabia's King Salman bin Abdulaziz Al-Saud at the royal palace here.
Both discussed bilateral relations and the ways to strengthen them in various fields, according to a report by the kingdom's official news agency SPA.
Also present at the meeting were Saudi Interior Minister Prince Abdulaziz bin Saud bin Naif, Minister of State Mased bin Mohammed Al Aiban, Trade Minister Al Qasabi, Finance Minister Al-Jadaan, Minister of State for Foreign Affairs Nizar bin Obaid Madani, Saudi Ambassador to India Saud Al-Sati and the Indian Ambassador to Saudi Arabia Ahmad Javed.
Later on Sunday, Jaitley along with his Saudi counterpart formally inaugurated the Saudi-India Business Council.
Thereafter, Jaitley also visited the "India Pavillion" at the prestigious Saudi National Heritage and Cultural Festival Janadriyah, at which India is the guest of honour country this year.
The India Pavillion, which highlights the Make in India initiative, is based on the theme "Saudi ka Dost Bharat".
Saudi Arabia is a key strategic partner of India and a major source of India's oil imports. Bilateral trade was worth over $25 billion in 2016-17.