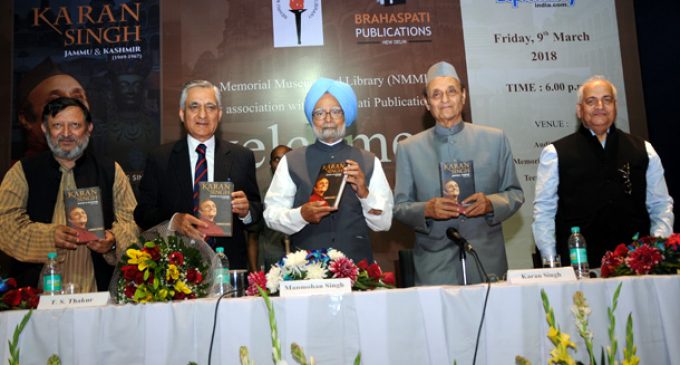 New Delhi, March 09 Unveiling the book titled "Karan Singh : Jammu & Kashmir 1949-1967" authored by veteran writer Harbans Sing at Nehru Memorial Museum & Library, Former Prime Minister of India, Dr. Manmohan Singh and Chief Guest of the evening, said that the book was important in recognising the troubled histroy of Jammu & Kashmir. The first copy of the book was presented to former PM by former Chief Justice of India, Justice T S Thakur in the presence of Dr. Karan Singh & Harbans singh
The book launch was also attended by non other than Dr Karan Singh, son of Maharaja Hari Singh, former Sadar-i-Riyasat of Kashmir, youngest ever Central Cabinet Minister, Ambassador to the US, and the man in focus of this book. 9th March is also the birthday of Dr Karan Singh which made this launch extra special.
The event began by presentation of bouquets to the guests of honour, and opening remarks by Sri Shakti Sinha, Retd IAS and Director of The Nehru Memorial Museum & Library. He thanked Dr Karan Singh for being a part of the Nehru Memorial Museum and Library, and expressed his pleasure to host the launch of this book. He also emphasised on the historical significance of the Nehru Museum and it's ongoing modernisation process.
After that the book was officially launched and it's first copies were presented to the distinguished guests.
Former CJI T.S. Thakur began his speech by praising Dr Manmohan Singh and Dr Karan Singh for setting high standards in Indian politics. He then complimented Shri Harbans Singh on his prior work on Kashmir and Hindi literature.
He also appreciated the book for it's special emphasis on the Jammu region, meaningful observations and thorough research. He also read a couple of lines from the book and applauded young Dr Karan Singh on having the courage to stand upto then Prime Minister Jawaharlal Nehru for rightfully defending his people.
In his address Dr Manmohan Singh stressed on the importance of the book in recognising the troubled history of the Jammu and Kashmir. According to him Jammu and Kashmir requires the attention of all the stake holders for a lasting solution to it's problems.
He admired Dr Karan Singh's remarkable leadership and confidence in shaping the course of events in Jammu and Kashmir during tumulus times and dealing with Sheikh Mohammad Abdullah. He ended his address by wishing Dr Karan on his birthday.
Dr Karan Singh expressed his gratitude to Shri Harbans Singh for focusing his book on Jammu, unlike most of the books that focused only on Kashmir. He shed light on the valour and scarifies made by the Dogras in founding and expanding the state of Jammu and Kashmir, and their under appreciation by historians. According to him after 70 years of independence the time has come to reevaluate the origin of the state of Jammu and Kashmir. He thanked Dr Manmohan Singh, T.S. Thakur, and the audience for their presence.