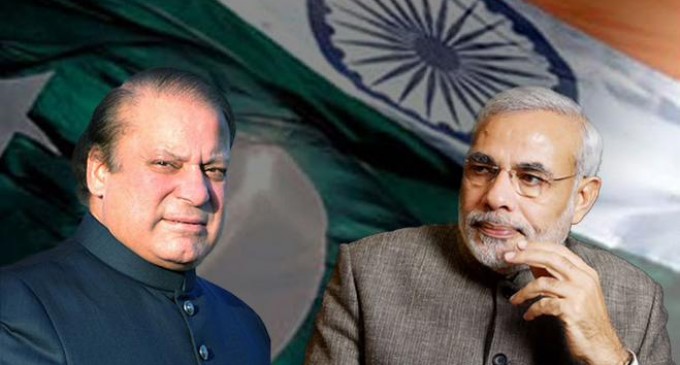 By TN Ashok   Diplomatic Editor
New Delhi, Aug 13: India's foreign office today defended strongly Prime Minister Narendra Modi's remarks on Pak induced terrorism even as the two countries exchanged sharp words on the issue ahead of the Foreign  Secretaries meeting later this month.
India's external affairs ministry spokesperson Syed Akbaruddin, reacted strongly to Pakistan terming Modi's statement as "most unfortunate" saying  Modi was merely articulating India's "core concerns about relations" with Pakistan over terrorism emanating from its soil.
He however said that both the foreign secretaries will meet as scheduled on Aug 25 in Islamabad to take the Indo PAK dialogue process forward.
Prime Minister Narendra Modi had accused Pakistan of waging a proxy war against India. During his visit to Kargil and Leh in Jammu and Kashmir on Tuesday, his second in two months, Prime Minister Modi , launched a frontal attack on Pakistan saying the neighbouring country "has lost the strength to fight a conventional war, but continues to engage in the proxy war of terrorism". He was addressing officers of the Indian Army and the Air Force in Leh.
India' s foreign office spokesman , Akbaruddin said: "Terrorism for us is a real and present danger. The prime minister was articulating what is for us a core concern in relations with Pakistan. Mere denials of selective approaches towards terrorism is not going to drive away our concerns."
"These stem from the fact that some of the worst terrorist attacks in India owe their genesis to areas either in Pakistan control or in Pakistan," he said citing the 2001 attack on the Indian parliament by Pakistani militants and the 2008,  26/11 carnage in Mumbai in which 10 Pakistani terrorists attacked India's commercial capital leaving scores dead and several critically injured .
"The attack on our parliament, which is one of the most sacred institutions in India, and the heinous killings of Indians and 16 other nationalities in Mumbai cannot be wished away. These are matters of present and real concern to us and the prime minister was articulating our core concerns in relations with Pakistan," he said.
He said the foreign secretaries are meeting as scheduled "in the context of directions given by the prime ministers to be in touch and look at ways to take forward bilateral relations".
Earlier, Pakistani Foreign Office spokeswoman Tasneem Aslam had said in Islamabad that the statements by Modi emanating "at the highest political level" were "most unfortunate".
Media reports quoted her as saying Prime Minister Nawaz Sharif's visit to India in May for Modi's swearing-in was in a spirit of attempts to establish good neighbourly relations with India. The visit "generated a fresh momentum in the bilateral relationship" and "it would be in the larger interest of regional peace that instead of engaging in a blame game, the two countries should focus on resolving all issues through dialogue and work together to promote friendly and cooperative relations".
In a statement, she had said: "With reference to news reports attributed to Prime Minister Modi repeating the baseless rhetoric against Pakistan regarding terrorism, Pakistan has consistently condemned terrorism, in all its forms and manifestations."
Rajiv Sharma, a well-known diplomatic commentator , said there were two ways of looking at the Modi barb on Pakistan. One, it is a "Change your policies or else" kind of admonition of Pakistan coming 13 days ahead of scheduled foreign secretary-level talks between India and Pakistan in Islamabad, thus signifying that nothing much should be read into the 25 August event.
Sharma said it may be debatable that with this kind of aggressive posturing ahead of the major diplomatic outreach between the two countries, Modi would have lost the goodwill in Pakistan he had generated with his out-of-the-box diplomacy of inviting leaders of eight neighbouring countries, including Pakistan, for his inaugural on 26 May.
Sharma further said that Modi's critics may say that with his remarks he has unilaterally killed an upcoming important diplomatic connect between the two governments even before it could be held.
But then the Ministry of External Affairs has gone on record as saying that the upcoming foreign secretary-level talks are nothing but "talks for talks". The message from the MEA is clear: that nothing substantive should be expected from these "talks for talks".
Moreover, there is nothing that Modi has said that his predecessors have not said. Former Prime Minister Manmohan Singh had lambasted Pakistan scores of times over the neighbour's role in fomenting terror in India despite his numerous peace efforts.
Modi's Pakistan remarks also give a sneak peek into his Independence Day speech and indicate that he would be talking about the recalcitrant neighbour in some detail, says Sharma.
Nothing substantive in India-Pakistan relations is going to happen till Modi meets his Pakistani counterpart. The two would inevitably meet on the side-lines of the United Nations General Assembly in New York in the last week of September and may have a structured meeting.