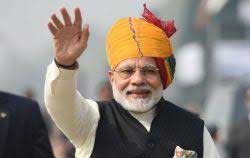 New Delhi, Jan 27 (IANS) India and Asean hold key to the Indo-Pacific Region which will be "indispensable to India's future and our common destiny", Prime Minister Narendra Modi said in an article published on Friday in 27 newspapers across 10 Asean countries.
The article, translated into 10 languages, was published as India hosted 10 Asean leaders as guests of honour at its 69th Republic Day celebrations here to mark 25 years of Asean-India partnership.
Modi wrote that India and the regional bloc together had "the potential to pursue higher ambitions and address the challenges of our times — from infrastructure and urbanization to resilient agriculture and a healthy planet".
He said a future of hope for India as well as Asean countries needed "the solid bedrock of peace" in an age of change, disruptions and shifts that comes only rarely in history.
"Asean and India have immense opportunities – indeed, enormous responsibility – to chart a steady course through the uncertainty and turbulence of our times to a stable and peaceful future for our region and the world.
"Indians have always looked East to see the nurturing sunrise and the light of opportunities. Now, as before, the East, or the Indo-Pacific Region, will be indispensable to India's future and our common destiny.
"Asean-India partnership will play a defining role in both. And in Delhi, Asean and India have renewed their pledge for the journey ahead."
Modi said hosting 10 Asean leaders at the Republic Day celebrations in New Delhi was "no ordinary event" but a historic milestone in a journey that has brought the India and Asean "in a deepening partnership of great promise for their 1.9 billion people, about one-fourth of humankind".
He said India shared a vision with its 10 eastern neighbours for the future "built on commitment to inclusion and integration, belief in sovereign equality of all nations irrespective of size, and support for free and open pathways of commerce and engagement".