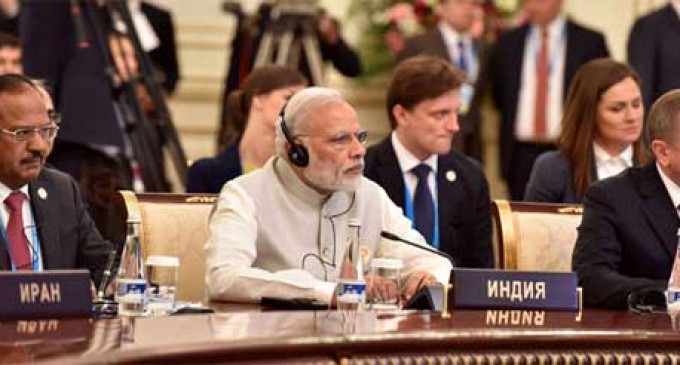 Tashkent, June 24  Prime Minister Narendra Modi said on Friday that India's membership of the Shanghai Cooperation Organisation (SCO) would contribute to the region's prosperity and strengthen its security.
In his address at the Shanghai Cooperation Organisation (SCO) summit, Modi said connectivity among the countries of the region is crucial to their economic prosperity.
"What we need is seamless flow of goods, services, capital and people among ourselves. Our region also needs to nurture strong rail, road and air links with the rest of the world," he said.
Modi said SCO leaders had accepted India as its full member at the Ufa summit last year and the Memorandum of Obligations signed during the Tashkent summit would formalise the process of India's membership.
"I am confident that India's engagement with all SCO members will help us build a region, which is an engine of economic growth for the world; is more stable and secure internally, and strongly connected with other geographies," Modi said.
He noted that with India as its full member, SCO boundaries would stretch from the Pacific to Europe and from the Arctic to the Indian Ocean.
"India's membership of SCO would contribute to region's prosperity. It would also strengthen its security. Our partnership will protect our societies from the threats of radical ideologies of hate, violence and terror," Modi said.
"India will unite with SCO countries to work towards this goal. And, we will adopt zero tolerance and a comprehensive approach in fighting terrorism at all levels," he added.