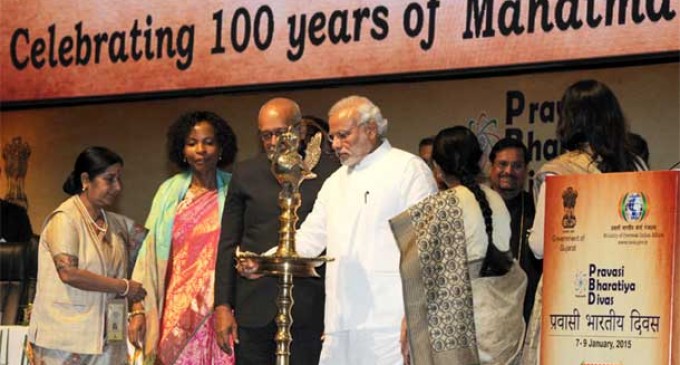 Gandhinagar, Jan 8 Prime Minister Narendra Modi Thursday inaugurated the 13th Pravasi Bharatiya Divas, the world's largest annual gathering of people of Indian origin, here by lighting the ceremonial lamp.
Also on the dias were Minister for Overseas Indian Affairs Sushma Swaraj and Gujarat Chief Minister Anandiben Patel.
Sushma Swaraj said the Indian diaspora is respected in the countries they live in for their discipline, work culture and contribution to that country's economy.
She said the Modi government is determined to work closely with the diaspora and engage with them and said: "I promise it will be a rewarding partnership."
The chief guest, Guyanese President Donald Ramotar, and South African Foreign Minister Maite Nkoana-Mashabane, shared the dias with Modi and Sushma Swaraj.
Earlier, Modi inaugurated the Salt Mountain, a memorial dedicated to Mahatma Gandhi built near the Mahatma Mandir complex.
More than 4,000 delegates have arrived for the 13th PBD, aimed at enhancing networking and reinforcing commercial linkages.
There are 25 million people of Indian origin residing outside India.
The event is being held in Gandhinagar Jan 7-9 to mark the centenary of India's "sarva sreshtha pravasi Bharatiya", or foremost Indian diaspora member, Mahatma Gandhi's return to the country from South Africa.