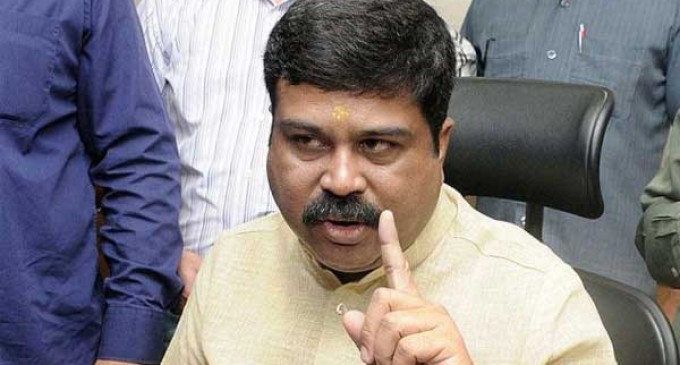 New Delhi, April 7 (IANS) In the first visit by an Indian minister to Iran since sanctions against it were lifted earlier this year, Petroleum Minister Dharmendra Pradhan will be in the country for two days, to be followed by a visit to the UAE on April 11-12, an official statement said on Thursday.
"Pradhan will meet the Iranian minister of petroleum, the senior adviser to president of Iran on free trade zones and governor of Central Bank of Iran, in Tehran. He would also be addressing the Tehran Chamber of Commerce," said a petroleum ministry statement.
"He will be visiting Chabahar free trade zone to interact with FTZ authorities. The last visit by an Indian minister of petroleum and natural gas to Iran was in April 2007," it said.
"The trade relations have traditionally been buoyed by Indian import of Iranian crude oil," it added.
The ministry also said Indis-Iran trade during fiscal 2014-15 was worth $13.13 billion. In that fiscal, India imported $8.95 billion worth of goods, mainly crude oil and exported commodities worth $4.17 billion.
India is also seeking rights to develop the Farzad-B gas field in the Persian Gulf that was discovered by India's ONGC Videsh Ltd.
Pradhan's visit to the United Arab Emirates is a follow up of the February India visit of Abu Dhabi's Crown Prince Sheikh Mohammed Bin Zayed Al Nahyan and Energy Minister Suhail Mohammed Al Mazrouei.
Pradhan will meet Al Mazrouei, besides meeting with the CEO of Abu Dhabi National Oil Company and the chairman of the Abu Dhabi Investment Authority, the statement said.
"During his stay in Dubai, Pradhan will meet Emirati businessmen, inaugurate the India Pavilion at the Annual Investment Meet-2016 and visit the Jabel Ali Free Zone Authority," it added.
UAE contributes in a major way to India's energy security, being the sixth largest supplier of crude oil. India is the second largest destination for UAE's oil exports.