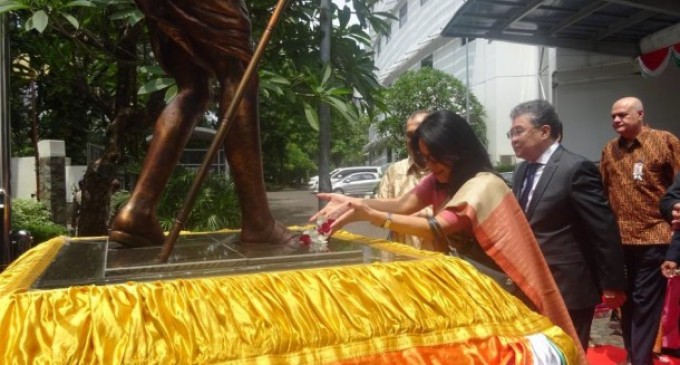 Jakarta, Oct 3 (IANS) A choir rendered Mahatma Gandhi's favourite 'bhajans' at a special programme organised by the Indian Embassy in the Indonesian capital to celebrate Gandhi Jayanti here on Monday, authorities said.
In association with the Gandhi Memorial Intercontinental School, the programme began with the Ambassador of India to Indonesia Nengcha Lhouvum and other guests paying floral tributes to Mahatma Gandhi followed by a commemorative address by the Indian envoy, a statement from the Indian Embassy said.
Speaking on the occasion, Lhouvum, who was also the chief guest, said the birthday of Mahatma Gandhi is celebrated as International Day of Non-Violence since 2007. She added that his message of "tolerance, accommodation and compromise" is more relevant now than ever.
The ambassador also said that Gandhi was liked by rich and poor alike and thinkers like Albert Einstein, Martin luther King Jr., Nelson Mandela and many more were inspired by him.
The celebration was also attended by former Indonesian Education Minister Ing Wardiman Djojonegoro, the envoys of Bangladesh, Kazakhstan, Vietnam and Belarus and a number of diplomats based in Jakarta.