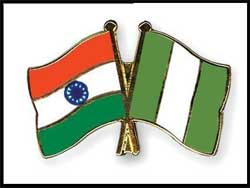 Accra, Feb 15 (IANS) With China increasing its trade and investment in Nigeria over the past few years, a trade exhibition involving the participation of some 200 firms from India will be an opportunity for the country to catch up.
China's trade with Nigeria was $11.2 billion over the first 10 months of last year — against India's $9.4 billion.
The Trade Promotion Council of India (TPCI) says the "Source India Nigeria" exhibition, from March 27 to 29, is an opportunity for holding buyer-seller meetings and is expected to see about 3,000 trade visitors from Nigeria and neighbouring countries in the West Africa region.
Its focus is on "cost-effective promotion of Indian exporters in Nigeria and to facilitate direct access to potential buyers and influential decision-makers", a TPCI official said.
Past editions of the "Source India" shows have been organised in Kenya and Ghana. The TPCI is hopeful that the exhibition will help Indian businesses tap into Nigeria, Africa's biggest economy with more than $500 billion nominal Gross Domestic Product (GDP).
TPCI pointed out that in 2016, Nigeria's imports from around the world totalled $30 billion. The products imported included electrical machinery and equipment, automotive parts, cereals, pharmaceutical products and rubber products.
"India's exports to Nigeria have touched $1.74 billion, with the main products being electrical machinery and equipment, automotive parts, cereals, pharmaceutical products and rubber products. "Thus, there is huge potential for Indian exporters to explore Nigeria in a multiple-product segment," the TPCI official added.
The exhibition is taking place at a time the economic and commercial counsellor of the Chinese Embassy in Nigeria, Zhao Linxiang, has said bilateral trade between the two countries hit $11.2 billion during the first 10 months of last year — a growth of 28.5 per cent.
In addition to trade, China is said to have invested about $2.7 billion in the country, with Nigeria Bureau of Statistics figures showing Chinese investment in non-oil sectors at $38.58 million. This is an improvement of about 4.6 times the figure for 2016.
Last November, the Nigerian government signed a $5.79 billion agreement with three companies for constructing the 3,050 MW Mambilla Hydro Project located in Taraba State, a project supported by the China Exim Bank. The Chinese have also been running training programmes in Nigeria over the past decade.
India is also supporting Nigeria with infrastructural projects facilitated by $100 million in Letters of Credit (LoC). The projects are in the power sector, including solar energy and rural electrification, in the states of Kaduna, Cross River and Enugu.
The Indian High Commissioner in Abuja, B.N. Reddy, has said India is also providing training through the Indian Technical and Economic Cooperation (ITEC) programme, which has seen several Nigerians being trained in India. Two hundred training slots were provided in the 2015-16 fiscal, with the figure shooting up to 300 during 2017-18.
This apart, India is Nigeria's largest source of pharmaceuticals, meeting over a third of the country's demand. So far, about 30 Indian or India-linked companies are active in importing or manufacturing pharma products in Nigeria.
"During 2014-15, India's pharma exports reached $414 million against $382 million during 2013-14 — an increase of eight per cent. This slightly increased to $428.52 million in 2015-16," the Indian High Commission said.
There is thus potential and India should strive to top the league of nations trading with the West African country, a senior Nigerian official said.