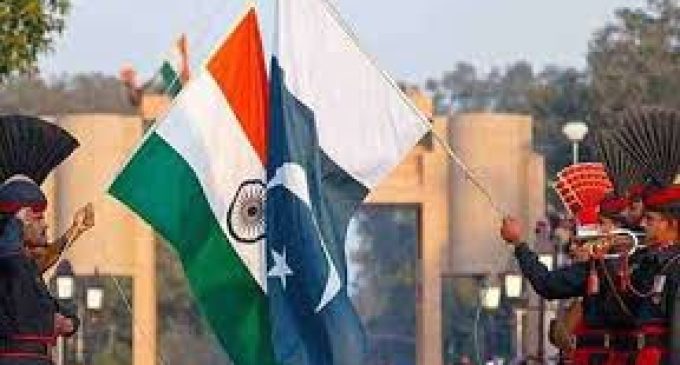 Jammu, Aug 8 The BSF trooper who was swept away into Pakistan by strong currents in the Chenab river was "treated with honour and dignity" and Friday handed over to Indian officials at the international border in Jammu district, officials said.
Satyasheel Yadav of the 33 Battalion was handed over to the Border Security Force (BSF) company commander by the Pakistan Rangers during a 40-minute flag meeting at an octroi post on the Pakistan side of the border, near Suchetgarh sector in Jammu district.
Yadav, who was part of a water patrol party of the BSF in Akhnoor area of the international border, was carried by the swift river current to Bajwaat village in Sialkot area of Pakistan after their motorboat developed a mechanical fault Wednesday.
BSF Director General D.K. Pathak said Pakistani authorities treated the trooper "very well".
Addressing the media at the Miran Sahib headquarters of the BSF in R.S. Pura, Pathak said: "Pakistani authorities treated Satyasheel Yadav with dignity and honour during the period he remained in their custody."
Yadav, who was present during the press briefing, confirmed that he was treated with dignity by the Pakistani authorities.
Asked how Yadav was swept away to Pakistan while three of his colleagues managed to swim to safety when their patrol boat developed a mechanical fault, the director general said Yadav did not know how to swim.
"He was, however, wearing a life jacket that protected him from drowning," he said.
Asked about some other Indian troopers who strayed into Pakistan in the past and are still reportedly in their custody, the BSF chief hoped they would get the same treatment as Yadav.
BSF officers also had a flag meeting Thursday with their counterparts from the Pakistan Rangers to seek the release of the trooper, following which Pakistan had agreed to hand over the trooper Friday.
On Thursday, India raised diplomatically both in New Delhi and Islamabad the issue of the expeditious release of the BSF constable, who hails from Ferozabad in Uttar Pradesh.
Pakistan's deputy high commissioner in New Delhi was called to the ministry of external affairs in South Block where Joint Secretary Rudrendra Tandon conveyed the Indian request.
A similar request was also made by the Indian mission in Islamabad, the external affairs ministry said.