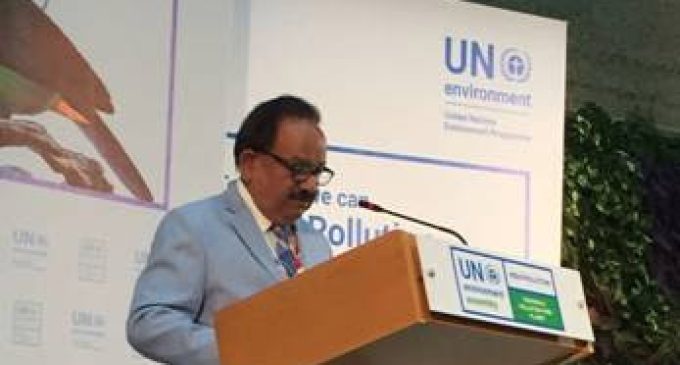 New Delhi, Nov 05 Stating that scientific facts clearly indicate that pollution has an impact on human health, well-being and has long-term implications on Sustainable Development Goals, Union Minister of Environment, Forest and Climate Change, Dr. Harsh Vardhan has said that a healthy environment is necessary for eradicating poverty. 
The Minister also added that the legitimate priority and needs of developing countries and their rights to equitable access to sustainable development for the achievement of sustained economic growth and social progress need to be taken into account. 
Delivering the National Statement on the second day of the three-day 3rdUnited Nations Environment Assembly in Nairobi today, Dr. Harsh Vardhan reaffirmed India's commitment to put forward a healthy and sustainable way of living, based on traditional values of conservation and optimal utilization of resources.  "Towards A Pollution Free Planet" is the theme of the 3rd United Nations Environment Assembly.
Dr. Harsh Vardhan said that the contribution of citizens and promoting sustainable lifestyles are important to achieve a pollution-free planet.   He emphasized that India is pursuing ambitious plans and expects action from other developed and developing countries to fulfill their historical responsibilities on the basis of equity and Common But Differentiated Responsibilities, as per the commitments made under the 2030 Agenda for Sustainable Development and other development agenda.  "Protecting mother earth is not just our political or social obligation but it is our moral responsibility", Dr. Harsh Vardhan said.
Recounting various Government initiatives that reflect its commitment to tackle pollution and health-related issues, the Minister mentioned Swacchh Bharat Mission to attain the vision of a Clean India by October 2, 2019; National Mission for Clean Ganga Campaign; India's Nationally Determined Contributions centre around India's policies and programmes on promotion of clean energy, especially renewable energy, enhancement of energy efficiency and launch of the  largest waste-to-energy plant at Narela, Delhi in 2017.   
Dr. Harsh Vardhan also announced that India will host the World Environment Day celebration in 2018.