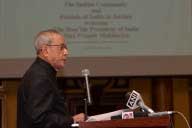 Amman, Oct 11  Lauding Jordan's humanitarian support in sheltering 1.4 million Syrians, India on Sunday called for a concerted global action for a peaceful resolution of conflict in the troubled country while also pushing its own case in forging a UN treaty on countering terrorism.
During separate delegation-level meetings between the Indian side led by President Pranab Mukherjee and the Jordanian Prime Minister Abdullah Ensour and his deputy and Foreign Minister Nasseer S.Judeh, a serious view was taken regarding the situation in Syria and the loss of thousands of lives there.
Briefing the media delegation accompanying the president on the first leg of the six-day, three-nation visit, India's Secretary, East, Anil Wadhwa said the talks also provided an opportunity to reiterate New Delhi's stand that there can be no military solution to the conflict in Syria.
The Indian side said it strongly endorsed the June 2012 resolution of the Action Group for Syria that met at the UN office in Switzerland — called the Geneva-I Communique — that not only wanted an end to further military conflict, but also rapid steps for a credible political agreement, involving the people.
The Indian side said India, accordingly, wanted a transition in Syria based on an engagement between the current government and those outside it, Wadhwa said.
Asked about the increasing Russian involvement in Syria, he said there was major distinction and said Moscow was primarily seeking to curtail the advancement of the extremist group Islamic State in Syria.
Since September 30, Russia has been carrying out airstrikes against certain positions of Islamic State which has been criticised by the US as being directed at anti-government rebels.
According to Wadhwa, the talks between the Jordanian and Indan side also veered around terrorism — of which the South Asian country has been a victim.
India pushed for a total global compliance of United Nations Security Council Resolution number 1353 of 2011 and United Nations Global Counter Terrorism Strategy adopted in 2006, as also the early adoption of the Comprehensive Convention on International Terrorism, that has been pending for over a decade.
The Indian side said this convention would serve to put a curb against state-sponsored terrorism in the most effective manner, by getting countries to take steps that will not only suppress such acts, but also punish its perpetrators, abettors, financiers, facilitators and collaborators.