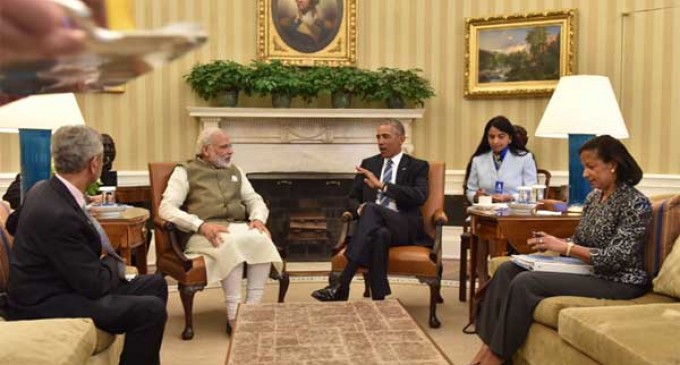 Washington, June 8  India and the US inked eight agreements, including in the sphere of defence and energy cooperation and counter-terrorism after talks between Prime Minister Narendra Modi and US President Barack Obama in the White House here.
The first one is for exchange of terrorist screening information between the Multi-Agency Centre/Intelligence Bureau of India and the Terrorist Screening Center of the US under which the two sides shall "provide each other access to terrorism screening information through the designated contact points, subject to domestic laws and regulations".
The arrangement will enhance the counter-terrorism cooperation between the two countries, said a statement.
The second is a MoU to enhance cooperation on Energy Security, Clean Energy and Climate Change through increased bilateral engagement and further joint initiatives for promoting sustainable growth.
Another MoU is to enhance co-operation in Wildlife Conservation and Combating Wildlife Trafficking in areas such as Wildlife Forensics and Conservation Genetics; Natural World Heritage Conservation and Nature Interpretation; and Conservation Awareness.
Another MoU is between the Consular, Passport and Visa Division of India's Ministry of External Affairs and US Customs and Border Protection, Department of Homeland Security for the Development of an International Expedited Traveler Initiative – the Global Entry Programme, which is a US Customs and Border Protection programme.
The programme allows expedited clearance for pre-approved, low-risk travellers upon arrival in the United States. After joint scrutiny and clearance by both countries, the approved Indian travellers will be extended the facility of expedited entry into the US through automatic kiosks at select airports, the statement said.
The fifth agreement is a Technical Arrangement between the Indian Navy and the US Navy concerning Unclassified Maritime Information Sharing that will allow sharing of unclassified information on White Shipping as permitted by respective national laws, regulations and policies, and provides a framework for mutually beneficial maritime information.
A MoU was inked between India's Petroleum and Natural Gas ministry and the Department of Energy of the US for cooperation in Gas Hydrates.
The MOU aims to increase the understanding of the geologic occurrence, distribution, and production of natural gas hydrates along the continental margin of India and in the US.
In defence cooperation, an Information Exchange Annex (IEA) was held between the Ministry of Defence and the US' Department of Defense regarding Aircraft Carrier Technologies. The IEA is aimed to enhance data and information sharing specific to aircraft carriers between India and the US, it said.
The final one was a Logistics Exchange Memorandum of Agreement between the two defence ministries aimed at facilitating mutual logistic support between India and the US for port visits, joint exercises, joint training and HA-DR (humanitarian assistance and disaster relief).