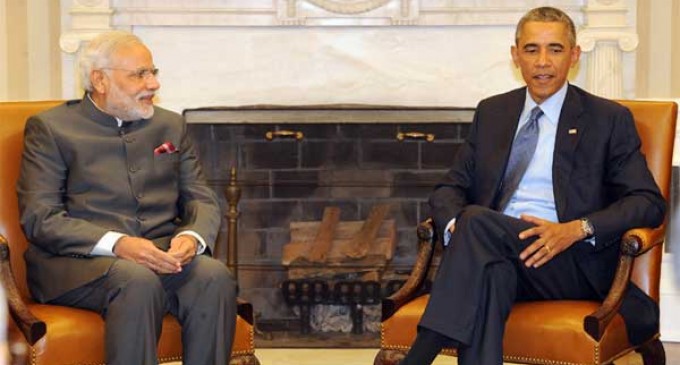 Washington, Oct 1  In a significant development, India and the US have committed to make joint and concerted efforts to dismantle terrorist safe havens, including four Pakistan-based groups Lashkar-e-Taiba, Jaish-e-Mohammad, the D-Company, and the Haqqani network, besides the Al Qaeda.
A joint statement issued Tuesday after the first bilateral summit between Indian Prime Minister Narendra Modi and US President Barack Obama also reiterated their call for Pakistan to bring the perpetrators of the November 2008 terrorist attack in Mumbai to justice.
Asked if this meant increased US support for bringing Mumbai attack mastermind Hafiz Saeed, who still roams free in Pakistan despite a $10-million US bounty for his conviction, external affairs ministry spokesperson Syed Akbaruddin said: "Akalmand ko ishaara kafi hai (the wise can interpret the signal)."
Obama and Modi also "reaffirmed their deep concern over the continued threat posed by terrorism, most recently highlighted by the dangers represented by the ISIL (now known as Islamic State or IS), and underlined the need for continued comprehensive global efforts to combat and defeat terrorism," the statement said.
Officials, however, made it clear that India was not joining the US-assembled coalition against the IS terrorists.
The leaders also "pledged to enhance criminal law enforcement, security, and military information exchanges, and strengthen cooperation on extradition and mutual legal assistance," the statement said.
Through operational cooperation by their law enforcement agencies, India and the US aimed to prevent the spread of counterfeit currency and inhibit the use of cyberspace by terrorists, criminals, and those who use the internet for unlawful purposes, and to facilitate investigation of criminal and terrorist activities, it said.
The leaders also committed to identify modalities to exchange terrorist watch lists and "President Obama pledged to help India counter the threat of improvised explosive devices with information and technology", the statement said.
Obama and Modi also committed to pursue provisions of US-made mine-resistant ambush-protected vehicles to India.