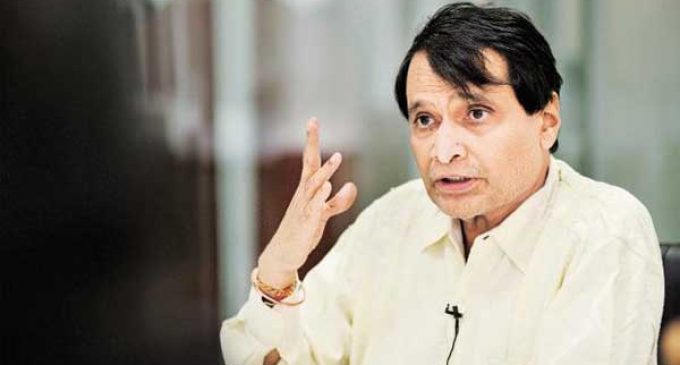 New Delhi, Jan 23 (IANS) Commerce and Industry Minister Suresh Prabhu on Monday said that India will "be working closely" with other countries, particularly from the Asean region for an early conclusion of the Regional Comprehensive Economic Partnership (RCEP).
"… It is important to address the sensitivities of member countries and their aspirations as negotiations gather momentum. We would all aim to achieve a RCEP that results in the realisation of the potential of the three key pillars of RCEP — goods, services and investments and in a manner that is balanced and collectivist satisfying.
"Keeping this in view, India will be working closely and constructively with all RCEP member countries and particularly Asean towards an early conclusion of negotiations," he said on the sidelines of the "Asean-India Business and Investment Meet and Expo" being held here.
The mega free trade agreement — RCEP — is currently being negotiated between Asean member states — Brunei Darussalam, Cambodia, Indonesia, Laos, Malaysia, Myanmar, the Philippines, Singapore, Thailand and Vietnam — and Australia, China, India, Japan, South Korea and New Zealand.
The RCEP negotiation includes trade in goods, trade in services, investment, economic and technical cooperation, intellectual property, competition, dispute settlement, e-commerce, small and medium enterprises (SMEs) and other issues.
"We believe RCEP is a logical extension of India's Act East Policy and believe that deeper interaction with RCEP will bring in greater prosperity…," said Prabhu, adding that the RCEP negotiations are "slow" but only because of the diversity of economic strengthens of the member countries.
The first phase of negotiations began in November 2012.
On deepening of India's relations with Asean, Prabhu said that together the two "can unleash latent synergies through mutual cooperation" in business and trade and that both sides should "co-build and co-operate" rather then compete.
He further said that India has taken up several projects in the region, bilateral trade has exponentially grown to $71 billion and the two sides are now aiming to scale it up to $200 billion by 2022.
Prabhu pointed out that taken together, India and Asean represents a combined population of two billion people and economy close to $5 trillion.