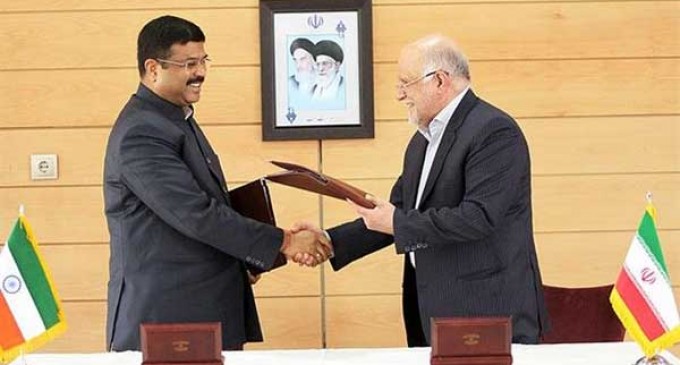 New Delhi, April 11  India is ready to invest $20 billion in the development of Iran's Chabahar port and has requested it to allocate adequate land in the Chabahar Special Economic Zone (SEZ), state-run Oil and Natural Gas Corp (ONGC) said in a statement here on Sunday.
India's intent to invest was made by Petroleum Minister Dharmendra Pradhan at a meeting with his Iranian counterpart Bijan Zangeneh in Tehran on Saturday.
"Pradhan conveyed to the Iranian side that Indian companies could invest upto $20 billion and were interested in setting up petrochemical and fertiliser plants, including in the Chabahar SEZ, either through joint venture between Indian and Iranian public sector companies or with private sector partners," the statement said.
"In this regard, he requested Iran to allocate appropriate and adequate land in the SEZ. He also expressed India's interest in setting up a LNG plant and a gas cracker in the Chabahar port," it said.
"He also requested the Iranian side for favourable treatment in the pricing of gas for India and also supply of rich gas at competitive price and on long term basis for the life of the joint venture projects that Indian companies are interested in setting up," it added.
In May 2014, India and Iran signed an MoU to jointly develop the port once the international sanctions against Iran were lifted.
Chabahar is located in the Gulf of Oman on the border with Pakistan, and Iran plans to turn it into a transit hub for immediate access to markets in the northern part of the Indian Ocean and Central Asia.
The statement said Pradhan also expressed India's interest in importing LPG from Iran and said that companies from both sides could, if required, discuss setting up an extraction plant in Chabahar.
On the final day of his two-day visit to Iran on Sunday, the first visit by an Indian minister to the country since sanctions against it were lifted earlier this year, Pradhan and his delegation visited the Chabahar free trade zone and port and discussed the facilities and incentives which could be offered to Indian companies, it added.
The Iran visit is to be followed by Pradhan's official tour of the UAE on April 11-12.