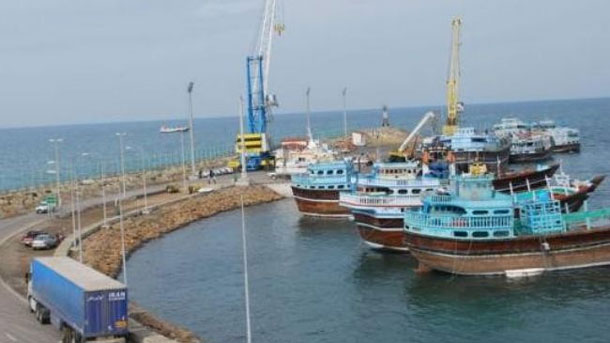 New Delhi, Oct 18 The union cabinet Saturday gave its approval to India's plan to ugrade the Chahbahar port in Iran, a move which will pave the way for improving India's trade with Afghanistan and other central Asian countries.
The upgradation would be effected through the framework inter-governmental Memorandum of Understanding (MoU) that is to be finalised by the governments of India and Iran.
An Indian joint venture company will lease two fully constructed berths in Chahbahar port's Phase-I project for a period of ten years, which could be renewed by "mutual agreement", Finance Minister Arun Jaitley told the media after a meeting of the cabinet, chaired by Prime Minister Narendra Modi.
The company will invest $85.21 million for equipping the two berths within 12 months as a container terminal and the second as a multi-purpose cargo terminal.
India will transfer ownership of the equipment to be provided through the investment to Iran's port and maritime organisation without any payment at the end of the tenth year and could also form a joint venture company that could include one or more Iranian companies.
The Indian and Iranian sides could enter into subsequent negotiations for participation in the construction, equipping and operating of terminals in Phase-II, subject to the Indian side's satisfactory performance in Phase-I, an official release said.
The cabinet also approved the constitution of a joint venture or other appropriate Special Purpose Vehicle (SPV) comprising the Jawaharlal Nehru Port Trust (JNPT) and the Kandla Port Trust (KPT) and if required, a local Iranian partner and an Indian private sector partner, to serve as the vehicle for India's participation in the development of the port.
The Chahbahar port located in the Sistan-Baluchistan province on Iran`s south-eastern coast is a port of great strategic utility for India. It lies outside the Persian Gulf and is easily accessed from India's western coast.
From Chahbahar port using the existing Iranian road network, one can link up to Zaranj in Afghanistan which is at a distance of 883 km from the port. Then using the Zaranj-Delaram road constructed by India in 2009, one can access Afghanistan's garland highway thereby establishing road access to four of the major cities of Afghanistan; Herat, Kandahar, Kabul and Mazar-e-Sharif.