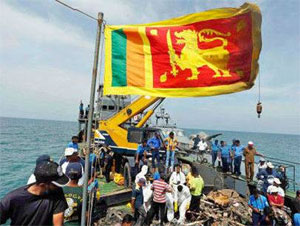 New Delhi, June 8 India has taken up with Sri Lanka the arrest of around 80 of its fishermen by the Sri Lankan Navy, an official said Sunday.
External Affairs Minister Sushma Swaraj has directed the Indian High Commission in Colombo to take up the issue with the Sri Lankan government, according to ministry spokesperson Syed Akbaruddin.
"She has asked the high commission in Colombo to take up the matter with Sri Lanka," he said at a briefing here.
The arrest of the Indian fishermen comes within days after 33 Indian fishermen were freed on the instructions of Sri Lankan President Mahinda Rajapaksa.
Of those arrested, 41 were detained off the northern Thalaimannar seas with seven boats, while another 32 Indians were arrested with eight boats off the Delft Islands in the north.
Tamil Nadu Chief Minister J. Jayalalithaa has written to Prime Minister Narendra Modi urging him to ensure that India registers its strong disapproval with the island nation.
In a letter to Modi, Jayalalithaa said time has come to lay down a time-bound action plan to achieve a long-term, permanent solution to the problem of unprovoked attacks by the Sri Lankan Navy.
She also said it was time to "put in place a strong and robust diplomatic response".